The Off road dirt bike
Kids and the Off Road Dirt Bike.
If you have been considering an off road dirt bike for your kids, shopping online can be a great experience. To begin with, you have the ability to open another tab on the browser and compare the qualities and prices.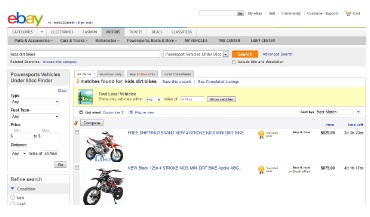 This is particularly valuable when looking at used dirtbikes.
Most of the time you can find the original information about the bike when it was new, including the MSRP and features.
When you put in your keyword search phrase, beware of the sites that promise a result in order to get an extra hit. Watch for company and dirt bike sites, which typically provide valuable information, including good and bad details for specific makes and models.
It is always a pleasant surprise to find a good bargain on a new off road dirt bike that is being cleared for the next year's inventory. How about a 2012 Dirtbike 70cc? Listed as brand new, this GY6 has a Honda clone engine and is available in a number of colors, including red or blue. Starting at $500 before shipping and handling, the company adds a helmet at no charge.
Is your kid at an age where learning how to take things apart, fix them and put them together again is still fun? If you have the time to help and guide him or her in a restoration project, follow up on interesting possibilities.
A 1986 Yamaha YZ125 makes a great project, provided all parts are available or you know a good machinist that can design them. For $500, you get a classic bike and the opportunity to give the family valuable repair lessons.
A top-rated seller award on eBay is a good indication that you can depend on the product. A clean 2005 Suzuki DR-Z 110 dirt bike that appears to be in good shape has an opening bid of $700. Parents will have the chance to show a possible find to the kids and gauge the success by the expressions on their faces. The time spent searching online for a top off road dirt bike often results in an appreciated bargain.
A motocross bike is fun – believe us!
Buying an off road dirt bike , can be full of pitfalls, but keep a clear mind in what you need to own. There are specific bike models such as honda, kawasaki or suzuki, if you want a top priced brand. You could of course want a motorbike that has a particular "cc" of engine.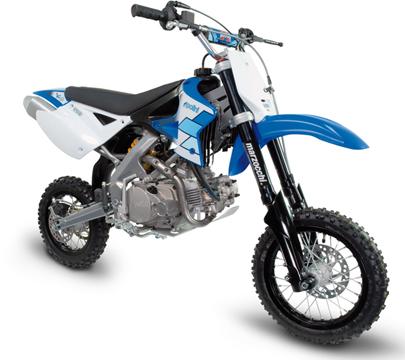 While its true you can buy pre-owned motor bikes and kids bikes from practically anywhere.
Your sure to visit some of the bigger websites for finding the right MX bike for you.
So we decided to look at those bigger places online and see whats available - and how good they really are.
First up was amazon.com. Not a normal place you'd automatically think of for motocross bikes. But we soon uncovered a Razor MX350 Dirt Rocket Electric motorbike selling for $224.99. The electric motor is ideal for smaller kids, and it has small wheels; and 12-inch pneumatic knobby tires for riding in the mud or garden grass.
The bike is great for ages 13 and up, plus the ride is complete with a rechargeable battery, a hand-operated rear brake and a double crown fork (speed is around 14 mph).
Then we also looked at a Trail Racer 200cc Dirt Bike selling at $1,950.
This Trail Racer has a single cylinder, air-cooled, four stroke engine. Plus an electric/kick start, new grips with a Wheelbase of 54,72". The max speed on this bike was a tire busting 56mph - so a model to have for the more experienced child.
If you want a new dirtbike accessory of course amazon.com can deliver that too. From KTM handguards to yamaha apparel. But we liked a neat Razor Full Face Youth Helmet for a mere $33.10.
Visiting dirt bike stores
Getting good prices – all the time.
The next place your likely to visit for a bargain off road dirt bike is ebay. With adverts changing by the hour you have to be quick on those real hummers of deals.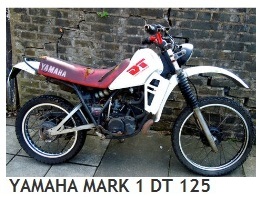 First its best to ask - What off road dirt bike would you like? One with great brakes & tires?, maybe a mini trail bike or a nearly new honda? Well its all there and more.
The initial bike that appeared in our spyglass was a YAMAHA MK1 DT 125cc. It sure was a rusty specimen. But ok for £200 (and 11 minutes to go on the ebay auction) – we could see the value that some rider would want it.
Other good points was it had been dry-stored for 5 years and the mileage was only 3,900. With a ripped seat, dents and rust, they do say beauty is in the eye of the beholder – (or someone looking for a spares bike) – this might just be good enough for owners of a YAMAHA MK1 who need a few choice parts.
We then enjoyed looking over a Trac 125cc pit bike at a classified price of £399. It appeared to be a chinese freestyle model as it had the Zongshen/Loncin 125cc - 2 Valve - 4 Stroke engine. Complete with a Manual Trans; with a 4 Speed box, Kick Start and 3 litre tank included.
Another used MX bike which had clear photos was a KTM 50cc KIDS MOTORCROSS BIKE; at a "buy it now" price of a mere £700. For that you get top quality bike grip(s), disc brakes at the front and drums at the rear. It does need a new chain but this motorcycle was in excellent condition.
Lastly was the dirtbikestore.co.uk, a place to get a solid off road dirt bike – or all its parts to be more accurate. If you're a girl pit biker or a motocross guy who's had some tumbles - this store sells Engine Service Parts, Plastics & Guards, Lubricants & Cleaners and some Trick Performance Parts.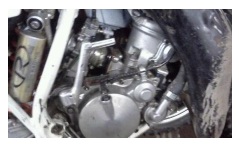 So if your down at the muddy creek having some motocross fun or your jumping about on a freestyle Friday; this store is there should you need some neat upgrades and critical parts to get you back in the saddle.
For example prices – check this out a Honda CR 125 1993-1994 Chassis - (No Engine) for £45 - or what about a Honda CR 125 2000-2002 Engine Parts - like a crankshaft for £125. And finally a Kawasaki KX 250 1999–2002 exhaust silencer for only £45.
They seem to be breaking various bikes and some older rides you'll be familiar with. The breaking and 2nd-hand section really is worth checking if you need some great deals and your budget is super-tight.
When you do get busy with the spanners you'll really need to know how two and four stroke engines work. Don't take on too much if you're not sure – it can be more complex than traversing a rocky river. But when you have re-built an engine (or perhaps a full sized motorcycle) you'll be part of the fellowship of motocrossers with oil in their blood.
Motocross - 2008 KTM 125SX &144SX
The dirt track moto-bike.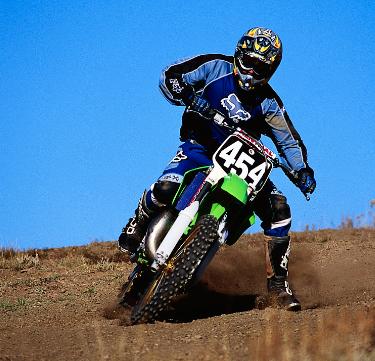 Take advice when you're buying your own off road dirt bike – advice is always good, but weigh up the most suitable bike for your needs.
Some more experienced riders forget you might not be that skilled yet to handle a "full on" powerful off road dirt bike.
The latest new ride that's had rave reviews, may not be any good for you either – so don't be pressured into buying it.
But keeping to a budget is the hardest thing; and trying not to get distracted by all the shiny goodies for your new or used off road dirt bike – AND if you can do that – then tell me how!
---
Home | Dirt Bikes | Cheap Dirt Bikes | Accessories | Mini Dirt Bikes | Motocross Racing
Motocross Gear | Off Road Bikes | Used Dirt Bikes | Wholesale Dirt Bikes
Honda | Kawasaki | Suzuki | Yamaha