Off road motor bikes
Auctions and Off Road Motor Bikes.
Perhaps you have never considered an auction as a way of finding off road motor bikes. It is an interesting, fun way to get a bike you like. This is true whether you are at a physical site, an online site, or a combination of both.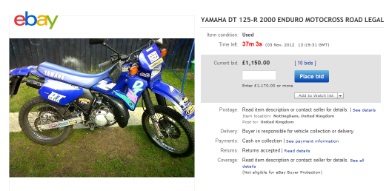 Of course, eBay is one of the more famous auction sites. Others quickly realized how convenient online auctions are, resulting in the ability to buy motorized bikes in that fashion. Some sites use both online and physical sites.
You can drive to the location and inspect the item in which you are interested. In the UK, Mannheim has a monthly motorbike auction. In the US and Canada, visit Government Auctions for a list of what is available.
Another benefit of bidding on and buying an auctioned motocross bike is having access to the knowledge of the auction house. They have information in advance regarding shipping and handling fees, buyers protection, if any, and requirements for crossing international or state lines.
Getting to know the personnel at the auction results in them knowing you. Being on the list for email notice when an auction is scheduled provides the opportunity to check for information regarding the bike.
One of the things to know in advance of bidding is how easy it is to get parts. You can do an online search for that information. If more than one of the same bike is being auctioned, consider buying two and keeping one around for extra parts.
Off road motor bikes are subjected to punishment regardless of the area they are ridden. If the swing arm or fork is damaged on one, the other may provide a ready replacement.
A simple Google search gives you an idea of a reasonable bid. You can usually save more by buying at auction than the actual owner. It is easy to get swept up in the excitement and bid more than you are ready to pay.
Get registered with the auction house and determine your maximum bid, including fees, for off road motor bikes that have drawn your interest.
A couple of links you should find of interest when buying dirt bikes -
http://www.manheimremarketing.co.uk/buying/motorbikes
http://www.governmentauctions.org/labels/motorcycles.asp
Popular motocross bikes that feel good.
Off road motor bikes have become very popular in recent times. So much choice abounds, great models and manufacturers have brought superb bikes to the market.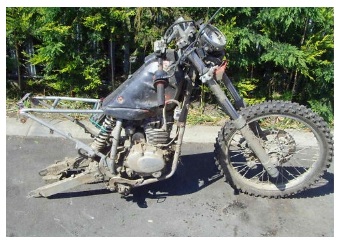 Accessories too; such as clothing and parts have brought up a whole industry around the bikes and bikers themselves.
Large events such as those in the USA, are now big business and race and track events draw vast crowds keen to drink in the spectacular races that is off road biking at its best.
Check one of these events out as it's a great day for all the family.
If the latest freestyle battle on TV has got you all fired up for FMX dirtbikes and your wanting to know how to perform stunts and compete in races - You'll be needing motor cross bikes (but not junkyard dogs).
Don't let the weather or deep mud puddles put you off. The dirt bike and the rugged enduros can deal with all that and more.
Girls and boys are getting fascinated by the new freestyle bikes and off road motor bikes; showing what they can do. The yamaha motocycle is the choice of champions, but they are expensive.
Where else can you go for freestyle dirtbikes and more importantly a cheap motor bike for off road fun. We'll show you:-
Mxchange.co.uk is a classified website that sells used rides with two and four stroke engines and even vintage motocycles appear on their pages.
We enjoyed viewing a Suzuki RM 125 going for £1895. It's a reluctant sale, and had been maintained to a very high standard. It comes with a few motorcycle parts, and includes two new Michelin tires.

Kawasaki vs Yamaha
Digging for gems……………
Another off road motor bikes model that captured our imagination was a Kawasaki KXF 250F being sold at £2500. You shouldn't have any issues with this whizzer cycle. Again its maintained regardless of cost – with new plastics, new air filter and mint condition carburators. Its only been raced for a short period and free from any accident scuffs.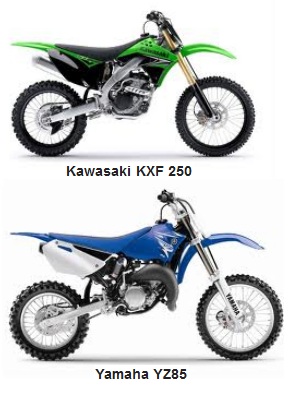 Sometimes used off road motor bikes can be found on the free classified websites such as gumtree and local.thesun.co.uk.
The latter was where we encountered a yamaha yz85, and the seller only wanted £800! And lots of spares too - including plastics, gold talon sprockets, new brake levers n' a new exhaust. You don't need to buy new motorcycles to have such fun in this sport.
Preloved.co.uk is a brilliant little site for helping the planet. Here you can place an advert for off road motor bikes and your saving the environment by not throwing away your old pitbike in a garbage tip – and letting someone else have some fun with it.
Ok so what's there? A 110cc orion dirtbike was offered up for £200, plus a KX125 1995 cycle was a mere £650. Its been rebuilt by the current owner, so you won't need to fiddle about with fuel tanks & lines or other oily bits with your spanners.
Better than a government auction is a specific motor bike auction and where better than ebay. Yep where else can you buy two stroke mixing bottles and perhaps some of the most powerful MX bikes for little money.
For one example on ebay; check out this a KTM SX 125 motorcross bike on a buy it now price of £3,200. Wow and comes complete with a trailer, dirtbike gloves, knee pads and KTM goggles & body armour. Plus a new air-filter, various tools and some bike oils all included – great value.
Pitting two vs four stroke engines can be a personal choice – just buy a bike that's right for you and suits your wallet.
Decide first what type of bike you DO NEED. Before you go shopping, take a spin on a buddy's bike or rent one – this will really gauge your abilities. Was it too powerful? Did you like the feel of a two stroke? Or would a four stroke be better? Do you need a bigger bike? Was the power feed too lacking? Were you comfortable? All questions you need answered before you go buying.
Kids dirt bikes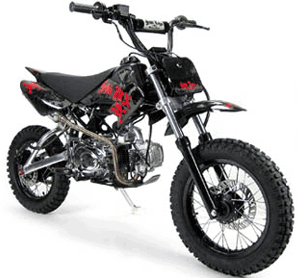 Needing a kids dirt bike? Try the smaller off road motor bikes from honda, they certainly are durable and made by a quality manufacturer.
The Yamaha PW50 or some of the smart looking pitbikes, like thumpstar or the sikk pitbike offer brilliant value for a few hundred dollars.
It's important your child can control and sit comfortably on whatever bike you buy. The "cc" or power is critical too, as your child will be like a bull in a china shop – and something will get broken.
Choosing kids MX bikes does take some time, and not a pursuit to be rushed into. Remember an underpowered bike can always be exchanged in a few weeks - but a bike that's far too powerful and has caused an injury, may put a child off riding for life.
---
Home | Dirt Bikes | Cheap Dirt Bikes | Accessories | Mini Dirt Bikes | Motocross Racing
Motocross Gear | Off Road Bikes | Used Dirt Bikes | Wholesale Dirt Bikes
Honda | Kawasaki | Suzuki | Yamaha