Off road used bikes
Excellent KTM and Husqvarna Off Road Used Bikes.
One of the advantages of buying off road used bikes is getting the bike you have always wanted for less money. Some people consider it a disadvantage to have to go through the bike and replace worn or broken parts.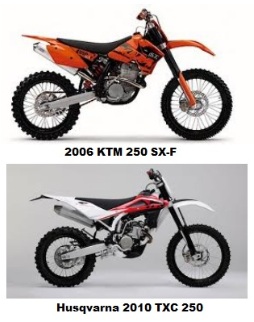 In reality, every dirt bike is going to suffer damage and wear when used for off road riding. Upgrading and repairing the bike is the best way to get familiar with it. In addition, it gives the owner the chance to personalize the performance.
The 2006 KTM 250 SX-F dirt bike has plenty of power. It features a six-speed transmission that allows second gear starts and performance through turns. The power in each gear is enough to keep the bike going with limited shifting.
That is a bonus for those who either frequently or occasionally miss a gear while shifting. Riders appreciate the smooth operation of the hydraulic clutch and its assistance in helping gears click into place right away.
The 250 SX-F looks good and gives a great ride. Its 48mm fork features quick-adjust compression clickers, eliminating the need for a screwdriver to make adjustments. Its mighty engine and transmission fit perfectly with the strong, durable frame. It might be designed for an SX track, but is good for any offroad riding experience involving challenging dirt and twisting, steep climbs.
When Husqvarna introduced the 2010 TXC 250 with its 4 stroke motor, the company drew a lot of attention. This desert and cross-country racing model has added a new dimension to competitive racing. It was hard for riders to believe the lightweight bike could produce the power and maneuverability normally found in an MX bike while offering a six-speed gearbox and electric starter.
A hybrid motocross/Enduro model is the way Husqvarna describes it. Features like the chain-driven overhead cams operating four titanium valves and a new electronic fuel injection system add to its power. It is equipped with an electric start and kickstart option. Suspension and handling are all a rider wants in off road used bikes where terrain and elevation change quickly.
A used motocross bike – can be a gem of a motorcycle.
Off road used bikes, give great value and make your money stretch so much further. A new bike of course loses quite a bit of money, and therefore a pre-owned bike is ideal for a beginner or those that need to keep a tight reign on their finances.
When buying a used bike however, you need to take greater care, such as checking the bike over thoroughly. Also it's nice to see receipts on any maintenance or parts, and if the bikes in general good order. Is it described with honesty by the seller? If you're in the slightest doubt, it's not - don't buy.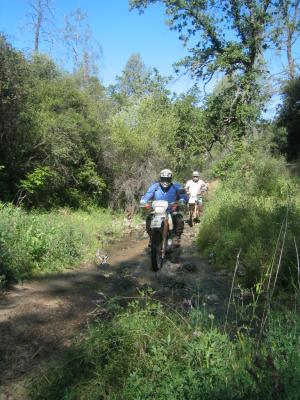 The moto cross bike has come of age. From those that follow the ama supercross championships and the latest MX schedule - its good to get interested in this sport and get muddy knees.
MotoX bikes have never been as popular as they are today. But where online should you be looking for a 125cc or some offroad tech? Take a trip with us in finding dirt & freestyle bikes at knock down prices.
Officialbikes.com have a well laid out catalogue. A kind of exchange where sellers and bike buyers are brought together in getting deals on great off road used bikes.
Although price was POA a Husqvarna WR 250, with new panels complete with emblazoned logo(s) was on offer, it had a new tank and seat that was added only last month. It's a fantastic looking motocrosser for any rider.
Or for $3,599 what about a Yamaha YZ450F? This seller also has a ton of other rides for sale - but a dealers ok, if they have good feedback. Always ask what the customer service is like before you buy, so send a couple of emails before you do buy.
Also what about a nearly new Suzuki RM 125 selling at $4,299? Comes complete with all the paperwork, and no freight charges either. The engine had just been overhauled, and new tires on the front and back had also been attached.
A nice site for motorcycles of any kind, and clear photos were on most ads - but do get some training before riding the more expensive bikes (if those are the ones your wanting to purchase) – you wouldn't want to wreck them first day out.
125cc's and 110cc's for sale.
Use it, but don't abuse it……………….
Mxchange.co.uk has a great selection of full size and mini moto race bikes. Many motorbikes come from the smaller cc varieties but larger dirt bikes can be found easily enough.
Ok so what's on there for off road used bikes? Well a KTM SX125 (125cc) for £2400 was our first pick; and this motorbike has only had 10 hours use! Now if that doesn't grab you perhaps a Kawasaki KXF 250 might? it's up for sale right now at £2250. This includes new plastics, an oil change after each time out and its generally well maintained. So you won't be getting oily hands getting this motorcycle on the track - its ready to go.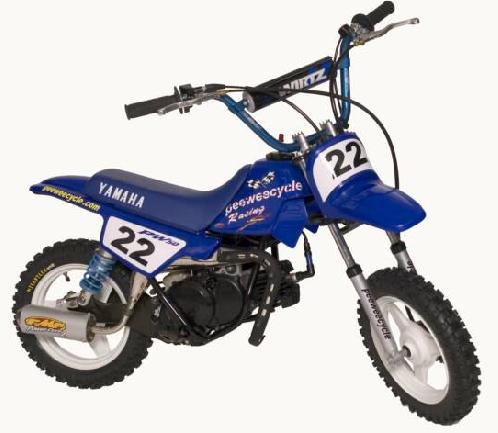 Wheelbynet.com has the occasional off road used bikes gem. Such as a Kawasaki KLX 110cc dirtbike for $1,000. In green, and complete with new Michelin offroad tires – A bike with a lot of character and very little to do, to get it ready for racing.
And then we have adoos.co.uk. Where you can pick up a few mini dirtbikes for sale - if you so choose. Here we discovered a number of rides with cheap prices – but we liked a 110cc non branded motorcycle with an elec start and ideal for kids 8+ wanting to show off their freestyle moves.
Price was JUST £400 for this mini motorbike - and a helmet was thrown in with the sale.
Gumtree and even ebay, can fish up good MX tires and motorbike parts of your choice; as well as complete off road used bikes that can go on the circuit today.
But read the latest news online, and this months dirt bike magazines which often offer up free reviews on used bikes. Don't let the flashy freestyle images sway you – keep it real.
Old magazines are also a great buy, if you search ebay for the model of bike you want first, and then type in the name of the motocross magazine – see what pops up?
It could be a real good idea to buy that classic copy, if your yet to buy that specific model of ride. Do your research the right way, and the perfect bike will become yours.
Off road used bikes – how can you fail to get a great bike.
Should you MAX out your dirt bike.
If you have a solid dependable dirtbike or pit bike, it's not a license to max it out every weekend.
Those off road used bikes have still cost money; even if it is a few hundred dollars in many cases.
The more abuse you put into it, the more repairs will be needed.
As you get experienced you'll know when you're pushing your bike beyond its limitations. And when that's happening it's time to upgrade your motorcycle.
If you run it into the ground – that's ok to a point, but be aware your MX bike will be worth nothing to sell (maybe a few dollars to a junkyard). BUT if you do cherish it, maintain it and still have fun. That small bike will help you buy a better bike in the coming months.
---
Home | Dirt Bikes | Cheap Dirt Bikes | Accessories | Mini Dirt Bikes | Motocross Racing
Motocross Gear | Off Road Bikes | Used Dirt Bikes | Wholesale Dirt Bikes
Honda | Kawasaki | Suzuki | Yamaha