Old Yamaha dirt bikes
Wicked Good Old Yamaha Dirt Bikes and Reasons to Own at Least One.
Like vintage clothing, vintage motocross bikes such as old Yamaha dirt bikes are worth having due to class, style and fun. People of all ages stop to admire your choice and offer comments about relatives having one when they were kids.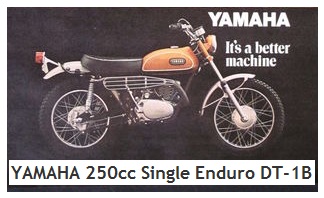 Perhaps they had one of whatever your vintage item is in the past. Precious memories and happy smiles make anything worth sharing.
One of the reasons for the dirt bike's popularity was the confidence both experienced and inexperienced riders felt when they climbed aboard. Yamaha's from the 70s and 80s are well-built and still have many OEM parts available.
The 250cc Enduro DT-1 was introduced in the late 1960s. Power, handling, size and design were elements that created the ideal bike that a rider was searching for.
Owners quickly discovered how easy it was to modify things on this single-cylinder, two-stroke bike, such as the carburetor and swing arm, to compensate for different terrain. The DT-2 replaced the DT-1 for the 1972 model year.
The bright yellow 1975 Yamaha YZ250 introduced the monoshock to the dirt bike and continued through 1981. The first long travel motocross bike designed for the public, the YZ250 resembled a dirt bike built from scratch in a fan's garage.
Parts were drilled out and bolts trimmed to reduce weight. The redesigned YZ had lower sliders of cast aluminum and dished out steel bolts.
The monoshock contributed to better handling. The suspension and chassis made the bike easier to ride and produced better response as speed increased. A durable steel frame and roller bearings in the steering head are elements which make this bike worth having. Many OEM parts are available, including the clutch plate, kick crank and friction plate.
Experienced riders get only the best from the 1976 Yamaha DT400B. A limited edition, it reached 130 km/h or more with its 2-stroke torque induction single cylinder engine. A strong double-cradle frame provided stamina in off-road terrain.
Own and ride any of these old Yamaha dirt bikes and let others admire your production. Sitting in a corner of the garage or shed hidden from view provides little satisfaction to anyone.
Classic yamaha's that have style and class.
When buying any old Yamaha dirt bikes, the first thing to remember is there are lots out there so don't be rushed. The value in old Yamaha bikes is attractive to buyers, as the Yamaha brand do build great bikes - and if it's an older used motorcycle, you hopefully get a quality bike at a rock bottom price (but not always).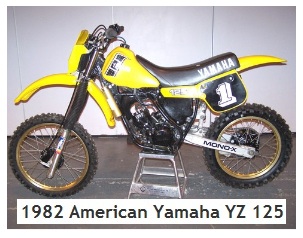 The main thing to do is if your buying a used Yamaha, is to check the bike over thoroughly and even take someone with you who knows about motor bikes to ensure it's not a complete wreck. Also test ride anything you purchase to be sure it's what you REALLY want.
Are you thinking of financing a new motorcycle? But realize that a new yamaha will break your bank? Well you can still afford a used Yamaha (even a classic) if you use some ingenuity.
A used Yamaha, is not always a retro motorcycle but it will save you the massive costs of a dealers showroom bike.
Something to be aware of too - breakers yards may not be the place to buy old Yamaha dirt bikes. Only unless your good at rebuilding motorcycles - or are technically proficient. Also used parts might give you great savings, but steer clear of brake components and other critical parts. In this instance you want to buy NEW yamaha bits - dont cut corners on safety.
We'll go online to find you some tip top motorbikes that have been pre-loved old Yamaha dirt bikes - the cherished ones are the best.
Mxchange.co.uk is great for classifieds. You're not likely to find a yamaha accessory or FMX apparel – this is ALL about dirt bikes.
Mxchange turned up a Yamaha YZ 250 at a nice priced £1250. With new performance parts; such as new sprockets and chain; and the engine had been tuned up - and oil changed. The oils within the gearbox had been changed every two times out, so this should be a great cycle for the environment of a motocross circuit.
Dirt bike riders love oldies
From the TTR to the YZ.
Next along for old Yamaha dirt bikes, is bike-exchange.com. Quite similar to mxchange it has plenty of pictures of the dirtbikes in question. All MX motorcycles should be "fit for purpose" and you should not see any salvage junkers (unless the seller specifically says so).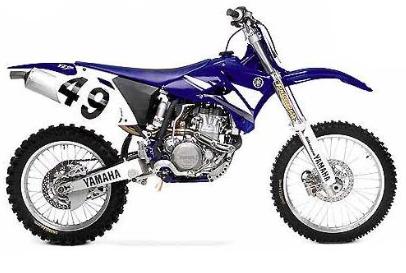 Ok so what did we get as per our old Yamaha dirt bikes? – well a Yamaha TTR 125 was being offered up at £900.
This old motocross bike had been stored for 2 years! So you'll need to check the working part(s), such as the exhaust systems, the brakes and oil (change the oil anyway). Test ride it if you can - but sometimes that can cause damage, so you may have to take a punt on a long stored bike, should one come your way.
Then we spotted a Yamaha YZ 125 which was £900 as well. This used model, had a new gold chain, new piston rings and the engine was in superb condition. See also if you can get any other goodies thrown in – sometimes these will include a repair manual, tools, a spare tire or a set of MX riding boots. Its always worth asking!
Then finally we come to ebay. Old Yamaha dirt bikes are here in big numbers, but you need to be a regular visitor to get the cream of the crop. Also don't forget the parts & accessory items, posters, other apparel that could be ideal for that finishing touch to your lifestyle.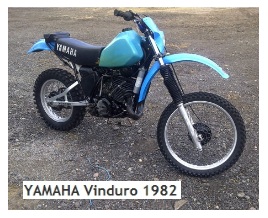 Looking at a Yamaha YZ 250 4JX it had a current bid of £465.00 with only 7 hours to go. Although the seller didn't know a lot about Yamahas it did come with a 'DEP pipes' exhaust, 'Koyaba' front shocks and a 'DID Renthal Chain wheel'.
Lastly we checked out a IT465 YAMAHA Vinduro from 1982 (465 cc). It had been imported from Colarado, and although it is missing both side panels, the bike was amazingly clean. The reason for the sale was the owner was awaiting a new bike, and couldn't store them both.
The Current bid of £1,070.00 had 2 days to run, and we are sure it'll make a great buy for someone.
Of course a yamaha forum may help you in finding the right dirt bike for what you want to do - be it FMX or racing. But do channel your energy in the right places within a forum and don't waste your time in pointless arguments.
Also it goes without saying you must make all necessary checks for stolen motorcycles (on any website) and if you buy a MX bike with worn parts – see if you can knock the price down a little. (As you will need to replace them asap).
Finding motocross graphics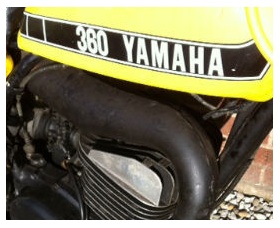 Many dirtbike riders base the MX bikes they use, on just performance. Which is no bad thing, but older motorbikes do need care, and maintenance is important.
If your restoring old Yamaha dirt bikes - buying an original looking graphic, to match your motocross ride does take time.
Tracking down original stickers is worth it; as the end result of a classic bike completed successfully will turn heads - and possibly increase its value.
If you simply can't find one (perhaps you have a rare bike), you can have a decal made to order – when you think it's not a lot of added cost to have your classic Yamaha the way it looked in the showroom.
---
Home | Dirt Bikes | Cheap Dirt Bikes | Accessories | Mini Dirt Bikes | Motocross Racing
Motocross Gear | Off Road Bikes | Used Dirt Bikes | Wholesale Dirt Bikes
Honda | Kawasaki | Suzuki | Yamaha