An Old dirt bike for sale
Craving a Classic Old Dirt Bike for Sale.
It is an ordinary day off, featuring plenty of time to spare and a chance to investigate an old dirt bike for sale. Suddenly the cheap way to kill time turns into an inspired project. One look at a 1971 Ducati 450 R/T MX bike with the Desmodromic System creates love at first sight.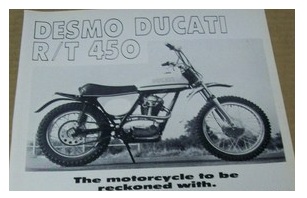 Even with previous experience in MX repair and maintenance, this will be a rebuild from the ground up.
You are about to discover the benefits and perils of buying a classic motocross bike and supporting a restoration project.
Ducati is recognized for its quality and innovative machines. After Doug McClure won the Baja 500 in 1969 with the European 350cc Desmo Ducati, the American market wanted something similar.
Berliner Motors, the US importer for Ducati, urged the company to make a similar 450cc off-road bike to provide potential customers something that would compete with BSA's 441 Victor. The result was the 1971 brilliant yellow road and trail (R/T) Ducati 450, an exclusive bike built for the American market. It used the dual rocker arms on each valve.
That feature of the Desmodromic System used one to open and one to close the valve, improving efficiency and power.
The powerful engine set too far back on the short wheelbase chassis, caused difficulty in turning the heavy bike. The potential market turned towards lighter two-stroke bikes, ending the manufacturing of the Ducati 450 R/T. One of the perils of owning this bike is the need for riding experience and physical strength.
Few collectors are interested in the few hundred bikes sold in the US during its one year of manufacture. Experienced vintage motorcycle racers might consider owning and restoring one, but avoid competing because the poor handling is too complicated to attempt adjustment. This is a benefit for the collector, as $6,000 will typically get a restored bike.
The front and rear fenders are made of fragile fiberglass Other unique items are the side panels, number plate and fuel tank. It is difficult to find OE chassis parts, although Ducati dealers carry most of the engine parts if you decide to get this old dirt bike for sale.
Old gold endurance motorcycles.
If you want to buy an old dirt bike for sale there's a number of things you can do. Old bikes don't cost the earth and there's no reason the seller should persuade you otherwise.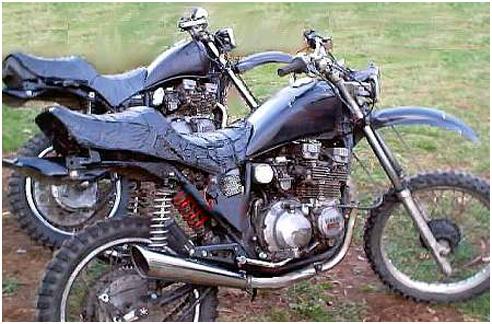 Often is the case the seller may try and claw some of their money back, they may have spent on accessories or upgrades to the bike. However sometimes you can specify what you want on the bike and what you don't, this way the seller keeps any expensive add-on's and you get what you require….a bargain bike!
Motorbike jumping & racing isn't going to go away anytime soon. Some riders argue the question - what is the best motorbike for motocross there has EVER been? thats partially why the classic dirtbike is being sought after today.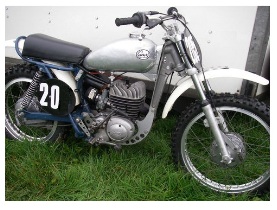 Some old motocross bikes are held in storage by their owners, waiting for prices to rise, but there are a number of antique motorcycle dealers, selling these old motorcycles to riders wanting to re-live the action of a real race.
First you'll want advice from a motorbike forum to know what an old dirt bike for sale advert tells you. One site you should check out is vintagedirtbikeforums.com. Here you'll get continuous chat about how to buy a classic motorcycle and what to do, and what to avoid.
The site is split into various sections such as opinions on the vintage yamaha, the old Suzuki's like the RM and questions about the vintage honda motorcycle.
Gumtree.com and pitbikeclub.co.uk could help too in your search for an old dirt bike for sale; Gumtree has many used yamaha's and honda's plus you can buy parts like a specific carburetor for that rare 60's model - but you might not do it on your first visit.
Pitbikeclub is more of a forum, and it could be worth joining if your struggling to find a set of older handlebars or a spare frame for your ageing mud machine.
Overlooking ebay?
Want a review of what to do next.
Ebay is often overlooked when thinking of servicing equipment and parts for older models. But ebay has plenty of gear - motorcycle sprockets, older brake kits and numerous tire(s) to fit 70's and 80's bikes.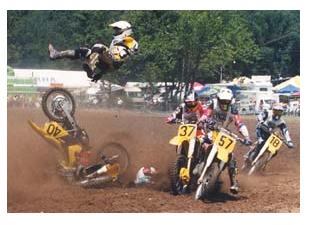 True most ads are for the newer dirt bikes, thats to be expected. But you'll be surprised to find some rarer parts online today. Like a 1975 husqvarna 250 set of rear brake shoes going for $25, and a 1991 suzuki rear pipe for a measly $10!
Do your small bit for recycling and check out their parts ads. Browse through the vintage motocross classifieds and old dirt bike for sale adverts on ebay - you'll be glad you did.
For not quite so old motorbike dealers who want to sell MX rides, there is always mxchange.co.uk. Here we looked at a fine Honda CRF 250F being sold for £1900. It was a few years old, but should still attract the babes.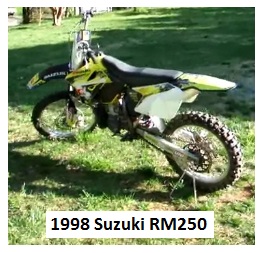 This old dirt bike for sale was in tip-top condition, plus the oil was changed regularly and its just had a new stainless steel valve fitted and some new chrome too.
The owner should have the repair manual; so be cheeky and ask if they can throw in any free service manuals (when they are available) - on classic bikes thats always a good possibility.
That will help you keep the parts & accessories in mint working order.
Also at mxchange was a Suzuki RM 250 (from 1998) priced to sell at £1300. With loads of spares such as a stand, spare wheel, a new air filter and sprockets. Plus tools, oil and a spare seat.
Mxchange does have vintage bikes from time to time, but check back often to get the best buys before they go.
Sometimes you can find antique motorcycle insurance a little bit cheaper and your doing your bit for the environment in the preservation of these older dirtbikes. Classics can be a joy to own – but avoid the bike salvage dressed up as vintage metal.
Oh yes....its out there.
Racing old dirt bikes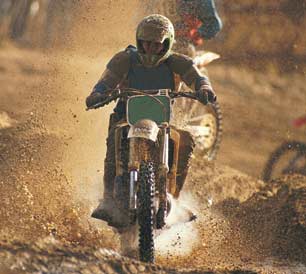 If buying a classic dirt bike has got you all fired up – here are a few things to think about.
How well maintained has the bike been in its life? How much damage has it sustained?
Are you buying a full restoration and paying a premium? If so you should have few worries, but where did the previous owner buy parts for it? You need to know.
Are you buying an old dirt bike for sale project? If so are all the parts with the bike? Or do you have to dig around to find more? How incomplete is it?
How much TIME will this all take to re-build the classic dirt bike? And do you have an understanding wife or girlfriend?
---
Home | Dirt Bikes | Cheap Dirt Bikes | Accessories | Mini Dirt Bikes | Motocross Racing
Motocross Gear | Off Road Bikes | Used Dirt Bikes | Wholesale Dirt Bikes
Honda | Kawasaki | Suzuki | Yamaha