The Orion pit bike
Good Things to Know about the Orion Pit Bike.
There is quite a bit of information about the Orion pit bike and pit bikes in general. There are so many holidays celebrated that are perfect for gifts. Perhaps one of the special people in your life is getting ready to celebrate a birthday or graduation.
If you know someone that enjoys riding motocross, this could be the ideal way of saying congratulations.
You and the recipient can shop together regardless of where you each live. Online sites are the places to search for the deals on a pit bike.
Out of the many choices, why consider the Orion pit bike? For most people, the answer is price.
One reason that you save money on the Apollo Orion is that part of the assembly is the responsibility of the purchaser. If this is a gift, verify that the recipient is familiar with the mechanics of a motorbike.
Providing a contact where assistance is available if needed is another good idea. Even though it is approximately eighty percent assembled when it arrives, there are enough vital parts to want it finished properly. Little things like tightening nuts and bolts, hooking up the battery and putting on the front tire are not too tasking. Adjusting the idle, alignment and chain slack requires additional knowhow.
Each person has a method to decide on the best Orion pit bike.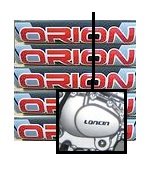 Honestly, they are all great for the price. When you consider that adults once revamped a kid's bike to build their pit bikes, it is easy to see that a lot is going to depend on personal choice.
The AGB-21A has a semi-automatic transmission and is available with a 50cc, 70cc, or 110cc 4 stroke, air-cooled 6.5HP engine. A kick and electric starter is another great feature. Add in the hydraulic forks on the front suspension and high strength steel tube frame and you get a strong, safe bike.
Apollo provided a wheelbase of 54 inches and seat height of 34.6 inches on the AGB-21F/21G Orion pit bike. Ground clearance is 14.2 inches. The 125cc four-stroke single cylinder air-cooled engine is ready to move, with maximum power at 8500. A kick start and four gear manual clutch are well-constructed and provided uncomplicated operation. The front shock features upside-down forks. The swing arm and frame are steel.
The AGB-30D Orion pit bike has an air-cooled 250cc four-stroke engine. The manual transmission has 1 down and 4 up. The bike is easy to start with an electric and kick start. An overhead cam and 16.75HP deliver great power. The rear suspension has an adjustable air bag shock. A superior braking system, a hydraulic disc twin piston brake is on the front and rear. The wheels are different sizes and the frame is heavy duty steel.
One Orion pit bike, the AGB38B OIL, combines some of the finest features like a single cylinder DUCAR 138cc oil-cooled four-stroke engine and Japanese-style carburetor. The manual transmission with 1 down and 3 up is ordinary, but the muffler is styled along the look of BBR. The kick start is reported to function very well. It has a genuine KMC chain final drive, knobby tires and can achieve 62mph. Two-wheeled motor transportation is respected in Asian nations, leading to good quality.
Compact and quick – that's the orion off road motorcycle.
The orion pit bike is a small yet compact bike. It has excellent suspension and good overall power transferred to its grippy pit bike wheels n' tires. When you buy an orion dirt bike it probably wont be a road legal pit bike. So don't be tempted to try, it'll get you into trouble.
Whats the word on the street - for a small motorbike that's kind of a childrens ride BUT adults can have messy mud fun with? Well it might be an orion pit bike!
Tiny pitbikes have become very cost effective these days, and most people want their money to stretch even further. If you're buying an orion motocross bike for sale, for either simple freestyle tricks or MX racing an orion should serve you well.
Online is the place for these cheap bikes, so let's get our running shoes on - laces tied? ok let's go.......
The obvious place to find orion's is a website called orionpitbikesales.com. With a range of great bikes it was easy to find what we wanted, a model called an OPBS XS-140 had a limited time price of $1409.
This all terrrain mini bike came complete with a 140CC, 4-stroke single cylinder engine, and an upgraded sports CDI ignition.
Ebay carries many moto-x bikes, helmets and gloves, custom accessories and LOTS of spares. But for our orion action, what about an ORION 125cc off roader with plenty of pictures from all angles – which is always good to see.
The Starting bid for this motorcycle was just £140, and no one as yet; had bid on this in the auction. This orion mud-plugger had a 125cc aircooled engine with extreme tire(s), new plastics and a toolkit - so dont miss deals like this one.
Buying an Orion motorbike
Another orion off road bike on ebay was an Apollo orion 110cc. At a "buy it now" price of £450; Which is really not bad for an almost new pit bike.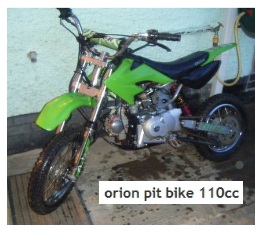 Complete with green graphics, and a wulfsport flite helmet & smith evo goggles thrown in completely free! The photos show an amazing trick bike that can easily be utilized for some off road fun for teens and kids.
Ebay is great for orion parts & accessories as well. You might get the best MX tyre for low money – but check it'll fit your bike. The beauty of ebay is you can email the seller to check it does, so never forget that before you rush into a purchase.
There really are tons of reliable motor bikes to buy online. And the orion pit bike is no different, true at certain times of the year they can be thin on the ground, but keep digging and you will buy a real show-stopper.
Orion pit bike - AGB21F 125cc
The 2006 Orion Pit Bike
Pit bike videos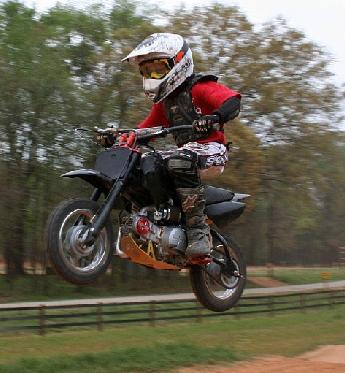 Once you have your orion pitbike and you have some moves mastered, you could be considering becoming a video star.
The pitbike more than any other sees riders put up videos on youtube.
Start out giving reviews of your bike, or what you have done to it, to make that Orion dirt bike the best there is.
Then perform some riding feats, if you have some experience under your belt.
Don't go crazy with this, as it could end in disaster.
Video cameras are easy to get hold of, and you could even make a video on your mobile phone.
It's great to be the next big trending superstar of youtube, but try not to damage your bike – or yourself in the process.
---
Home | Dirt Bikes | Cheap Dirt Bikes | Accessories | Mini Dirt Bikes | Motocross Racing
Motocross Gear | Off Road Bikes | Used Dirt Bikes | Wholesale Dirt Bikes
Honda | Kawasaki | Suzuki | Yamaha