Pit bike 125 cc Motorcycles
Finding an Economical New Pit Bike 125
Not so long ago the best pit bike 125 on sale for under $1000 would have been the Pitster Pro. Upgrades, import fees and consumer demands have put the price over the thousand dollar mark, leaving other bikes more affordable for the average trail rider.
The Orion XG-125cc mid size pit bike can be found on sale for $739 (without assembly) or $938 fully assembled.
It is powered by a 125cc ZongShen 4-stroke air cooled single cylinder engine. The seat height is 28.5 inches, while the wheel base is 50 inches.
The kick start bike has 10.5hp at 65 mph. The KLX style non-inverted front forks, alloy triple clamps and risers are built for performance. The black frame and silver wheels are a sporty addition to the red, green, dark blue or black seat and plastic colors.
The SSR 125cc A1-Pro Mini pit bike is on sale for $900. A ZongShen engine delivers a top speed of 39 to 48 mph. It has a 4-speed manual transmission. Built to carry the average rider, it has heavy duty spokes and a rear shock. The XR70 front forks are built with heavy duty springs, as well. The swingarm is built of aluminum. It is terrific learning experience for riding on trails and around tracks, but not a racing bike.
Featuring a ZongShen engine, the 2012 Coolster 125cc MadMax Plus pit dirt bike retails at $999.95 and has dropped as low as $700. It is a great trail bike, displaying lots of power, thicker fork tubing and stiffer springs to take the punishment.
Heavy duty springs on the XR70 replica forks deliver a comfortable ride. The exhaust is easy to upgrade. The bike handles a rider up to 150 pounds easily. The bike is easy and inexpensive to upgrade for racing. It features a strong Chromalloy frame.
It is good that kids and adults have the option of learning to handle a pit bike 125 at a low price before heading off to the races. If the need for speed does not run through their veins, the family has a great trail bike for weekend excursions.
Is it all about the engine power and grip?
The pit bike 125 motorbike has a solid power unit adapted for most terrain. The lightness of the bike and the quality of the pit bike forks & swingarm, should give you excellent grip and suspension. Always look after your pit bike wheels, they can be damaged if your really racing on the edge, so check them over after each race for tire wall damage or broken spokes.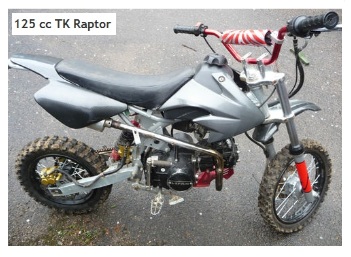 Is your muddy kid wanting the latest yamaha motorbike or honda for offroad adventure? But that type of bike can cost you a packet, and you won't have money left for helmets & spares – so what do you do?
Well outdoor fun doesn't have to involve a finance deal at your local suzuki showroom. Why pay full price for a new dirtbike when pitbikes are available a whole lot cheaper online.
Let's look at some classifieds that offer pit bike 125 cc rides for a WHOLE lot less.
The auction site of ebay was an obvious place for pitbikes wasn't it? Where else can you get kenda tires, antique motorbikes and synthetic oil all at the same place! But we want cheap pit bikes – so what did we see?
An old 125cc Dirtbike scrambler at a buy it now price of £325 was our first find. This compact offroader has upside down fork suspension, 4 fwd semi-automatic gears and a max speed of 70km/h. It was rusty though, and had a flat back tire.
125cc off road motorbikes
Looking at the classifieds for buying power.
We had to do better…….
What about a monster pit bike, which although still had 3 days to go – bidding was only up to £150.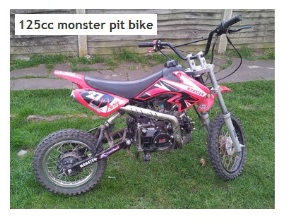 It had a 125cc 4 stroke engine, with an electric start and kick start plus comes with 2 keys. The downsides were a slightly buckled front wheel and no back brake. But if your good with bikes, this will go cheap.
Next was a really clean Demon x Pit Bike with a 125cc motor. This had a Big valve engine, and hadn't been ridden much due to the rider not having the land acreage to ride it.
Coming with a Four-speed manual transmission, it is chain driven, and Factory Monster Energy decals were fitted.
To explain how new this bike was, only two tanks of fuel had been run through it – so the current bid of £380 (2 days to go) was just peanuts for a really good pit bike.
A TK Raptor with 3 days to go on the auction and £265 of bidding also gave excellent value. This bike had new tyres, front and back, new wheels all round, new disc brakes, new plastics, and a new brake lever. Its chain driven pit bike 125 cc engine starts first time – truly excellent.
With used bikes like this, its still best to test ride it before you buy - there could be some small issues you might need to discuss with the seller. Also bring a trailer to take it home too – so think ahead.
Read up a little on the history of pitbikes if you get time; just to give yourself an idea on the better older models to buy (and those to avoid).
Classified sellers sometimes throw in tires, MX gloves, even motox helmets, and while you won't get the best motorcycle helmet its worth considering – be sure THAT used helmet they give you has not been damaged. If it has bin it! - Buy a new fitted helmet for your future races – don't wing it using an old helmet with an unknown history.
demon x 125 pit bike modified..
Dirt Bike Pro 125cc Pit Bike 2010 Conor and Elliott
The 125cc question.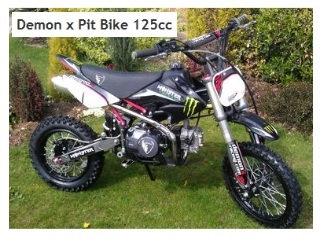 What's so great about a pit bike 125 cc?
Well they aren't as underpowered as a 49cc, yet they won't be throwing you around a track or circuit like a 250cc would.
A lot of riders like the feel of a pit bike 125 cc. They can control it, and on some of the major models power is fed in nicely giving you precision on the corners and jumps.
Honda, Yamaha, Suzuki and KTM are, or have at one time produced 110cc and 125cc bikes. And the reasons simple, they sell them & pitbike manufacturers do the same.
The pit bike 125 market is a big one, and it's going to continue for years to come.
---
Home | Dirt Bikes | Cheap Dirt Bikes | Accessories | Mini Dirt Bikes | Motocross Racing
Motocross Gear | Off Road Bikes | Used Dirt Bikes | Wholesale Dirt Bikes
Honda | Kawasaki | Suzuki | Yamaha