Pit bike accessories
Pit Bike Accessories and Safety.
The uninitiated often wonder about the big fuss over pit bike accessories. Typically they are thinking along the lines of specialized body panels or colorful decals. Even bike covers and number plates are easy to recognize accessories.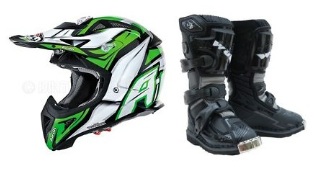 More important than how the bike looks, however, are the accessories that protect the rider.
Even though a pit bike is much smaller than a motorcycle, it still carries children and adults in a position much closer to the ground.
One specific item from the motocross apparel range that doesn't work very well when riding a pit bike is the typical style of MX boots. Because the bikes are so much smaller, the buckles and height of the boots can interfere with the ride. However, you want to maintain the protection of a quality boot.
One suggestion is Fox Racing's Comp 5 Shorty Boot, designed to provide the comfort and protection of a full MX boot while built for pitbike riding. Solid ankle armor and exceptional flexibility ease the pressure on your ankles without compromising safety.
Your current MX helmet can be worn when riding your pit bike. If you are looking for a new helmet, the Quadrant Rockstar form Thor is a great option. It is light, looks and feels good and offers the protection needed for your neck and head if you take a spill or run into something.
No matter your age or experience, safety gear should never be bypassed. A helmet that fits and has the proper safety equipment makes good sense.
Goggles are another important pitbike accessory, such as Dragon MDX goggles. The anti-fog treated (ATF) lens and moisture wicking lining fit into a polyurethane frame. Comfort is easier with its unidirectional air flow system.
Other accessories include breathable jerseys that let sweat escape and abrasion resistant pants. Think about how close your hands are to the ground to get an idea of the importance of MX gloves.
Debris is tossed towards you when riding, so gloves protect the hands from the impact and reduce the chance of abrasion in a fall. Fox Racing Dirtpaw MX gloves provide freedom of movement to handle the bike while supplying the protection needed during your ride.
A great choice of gear for pit riders.
What are pit bike accessories ? well they can be helmets, gloves and clothing or parts for your bike. Many manufacturers have exploded their choice of this expanding lucrative market. You may want to go with colors or brands similar to your bike, or go for a unique feel - what do you like to do?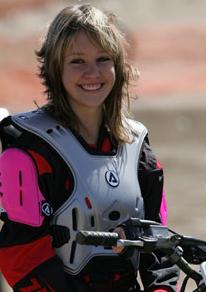 Apart from the pit riders apparel there is a lot that can be added to the bike itself including improvements to the manufactures stock model.
The choice of pit bike accessories is bewildering - so take time out to select only the best & most suitable - you will soon be spending a lot of money, if you get wild-eyed about maxxing your pitbike with every conceivable add-on.
Whats your choice of motorcycle transportation? Has it come from a suzuki dealer or do you buy a used motorcycle?
Both options might be too expensive, so you became a pit bike rider...right?
Don't let that philosophy go to seed, when you spend on accessories. You bought a pit bike because it was cheaper, so keep that budget head on your shoulders when you shop for parts and clothing.
Your kit & gear STILL needs to be the best - but that doesn't mean it's going to cost you.
For cheap MX clothing we'll head first to motoshopper.com. They have riding apparel and TLD HELMETS that are compliant with the latest standards, and anything else simply isn't good enough.
First up is a D2 Composite Rustic Helmet in their current sale at $209.96; This helmet, has a washable, padded inner liner & a well thought out ventilation system that has four intake and out-take ports so you feel a continuous flow of air within the helmet when your racing.
But prices don't just stop there. A Body protection Guard for a teen girl or boy MX rider was a more reasonable $78.47.
We also bought some Combat Knee/Shin Guards (by troy lee designs), for a nice priced $52.86.
Some items can be cheeper than dirt so its a good idea to come back often to be sure your not missing out on any pit bike accessories that are reduced.
Dirt bike wheels N' gear
Apparel bargains are just as competitive.
Rims are easily broken on a pitbike with all that excessive jumping, and it's good to know ebay can deliver on those types of accessories. A Classic 10 inch Rear Drum Wheel Rim in Blue was up at £35.49.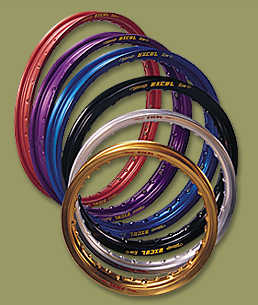 It would fit the Stomp, Demon X, Orion, Thumpstar, and M2R – and it incorporates steel spokes and a heavy-duty hub to take any punishment you care to mention.
We also found a 14" front wheel SDG steel rim selling for £25.00. It had 15mm bearings an Alloy Hub & Black Steel Rim plus it was a "genuine parts" rim, unlike those cheaper copies that always are a fiddle to fit.
Then we took a look at slyfoxmx.com - for mx apparel, clothing and pit bike accessories they are second to none.
Would you like some O'Neal Element Motocross Boots for $79.99? They come with the fully adjustable four buckle closure system, uni-directional sole with steel shank and are made from 100% leather. Great for old & new pitbikes and they keep your feet safe from hot moving engine parts.
More gear & Pit bike accessories ?.......
A brand new Thor AC Vented Jersey was a cool $36. Suitable for anything the track environment can throw at it. The jersey comes with padded elbows, a v-neck collar with roost flap and a grippy silicone tail, to stop it falling out the back of your pants.
With their being no such thing as harmonic races for any dust riders; you'll need a pair of Thor AC Vented Gloves selling for $22.45. These are lighter, more breathable, and have a mesh back and a Clarino single layer perforated palm. Now you can really hang on tight in those corners.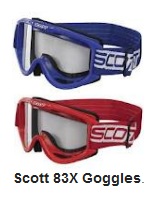 Dirtbikebitz.com have a lot of dirt bike accessories and pit bike accessories; at reasonable prices.
For some examples a pair of Scott 83X motorcycle eyewear / goggles came in at £18.99. If you want the Quick strap only that was £17.99. And for motocross clothing a set of Alpinestars Combos was under £80, and Acerbis Gloves had prices starting from £24.95. All good value pit bike accessories.
When you do buy used motorcycles; if it's an ebay pick or it comes from a classified website – be sure you get the right part numbers and model and year correct. Be totally clear with the store as to your part requirements.
Be as descriptive as you can when buying a spare or part – double check the year and model of the pit bike the spares are for if you have to – so there is no confusion.
If your too vague, your pit bike will stay in the garage – and no-one wants that. Also remember some of the Chinese pitbikes share parts with lots of other models, so many items should be a snap to buy.
Choosing Motocross Gear
Aluminum dirt bike trailers
One of the biggest pit bike accessories you can buy for your motorbike is a trailer.
Aluminum ones are best, as they don't rust, and you can sell them on to eager buyers fairly easily.
Triton Aluminum Trailers and sportutilitytrailers.com are two of the big names you'll hear talked about when buying a trailer new. Some trailers are fairly simple designs for around $300 - $500, but other models can go up and over a $1000.
If that's too rich for your blood - towing cradles and racks are also useful getting your pitbike or dirtbike to the track.
Remember the beauty of some smaller pitbikes is they don't need a trailer and they'll fit in the back of your pickup truck or trunk. You don't get that with motocross bikes!
---
Home | Dirt Bikes | Cheap Dirt Bikes | Accessories | Mini Dirt Bikes | Motocross Racing
Motocross Gear | Off Road Bikes | Used Dirt Bikes | Wholesale Dirt Bikes
Honda | Kawasaki | Suzuki | Yamaha