The Pit bike engine …Vrooom!
Caring for your Pit Bike Engine
What is so special about those oddly shaped bikes and what does one do to care for the pit bike engine? Are they just the same as dirt bike engines or is there a difference?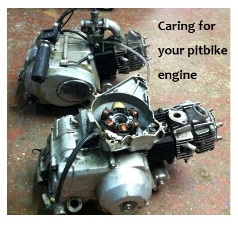 Some of the similarities include what they are used for. You can find people riding both types of bikes on trails or in races.
Engine power is different, since today's pit bikes range from 49cc to upwards of 195cc. On the other hand, dirt bike engines usually range from 100cc to 650cc. The result is that dirt bikes have more speed, although pit bikes offer a good pace.
If you are wondering how many people consider upgrading their pit bike engine and what manufacturers believe they are looking for, this is one example. Factory Powerhouse is accepting deposits on an engine expected to arrive in summer 2012.
The retail price is just under $1400 for the 4-valve Daytona 150cc Anima Engines. The supplier is urging customers to order early, since quality engines generally mean the difference between winning a competition and eating roost.
Even though motocross and supercross competitions separate the classes by engine displacement, pit bike competition is done by wheel size. Skill, balance and the right pit bike engine can lead a rider ahead of more powerful bikes during a race.
It is definitely important to comply with the breaking-in process recommended by the manufacturer. That is true for both a new and used pit bike engine. Why worry about overheating the engine when your goal is going as fast as possible to see what the engine will do?
If that 600-mile allowance is not observed, oil could be forced out and the piston seize to the cylinder wall. Avoid creeping along, though. The engine needs steady, usual speed so the piston rings seat correctly. Both types of bikes require a lot of care. There is seldom a problem in finding parts for the pit bike or the engine.
In addition, many of the Chinese manufacturing companies are making replacement parts for the typical 4-stroke, horizontal, single-cylinder engine. Combinations of the best features of different engines are found in the new Piranha 150cc electric start engine with its Kawasaki KLX top end and Honda bottom end. That might pose some problems when replacement engine parts are needed in the future.
When it gets down to what to do to keep the engine running at peak performance, you will find that it is quite a bit like caring for a dirt bike engine. Clean your bike before and after using it; that is good for the bike and the engine. Some of the other guidelines are:
Clean the air filter after each ride.
Use a magnetic –tipped drain plug to keep metal specks out of the engine and save on wear and tear.
Change the engine oil after every fourth ride.
Change the spark plug every 12 months
Perform valve clearance checks every 12 months.
It is important for every rider to know how to take care of the bike being ridden. The pit bike engine costs $300 and more to replace. If children are learning to ride, start by teaching them the basics, such as checking the tires. Learning care early will result in less costs and more rider confidence for your child.
Look after your motor and it will look after you.
Your pit bike engine should be your main priority. Keep it well maintained with OEM spares and it should last you for years. All fluids must be checked regularly and it doesn't matter if it's a 125cc engine or a smaller 49cc model - they all respond to good treatment.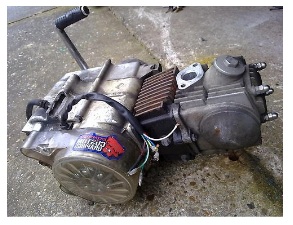 You will see some of the experienced riders look over their bikes after a hard race. Mainly for damage or checking issues with the wheels, tyres or suspension.
Then you'll see them over haul the engine with their eyes – once you get into the habit you'll do the same. The engine can carry you to victory or be the instrument of your demise – so what's it to be?
You'll need a reliable online parts store if your motorcycle is going to get the best parts available – so we went online to find you a few.
Ebay should be checked out first- they sell a ton of motorcycle accessories and not just clothing & off road mud tires.
Here we found cheap amsoil motorcycle oil, honda parts and complete pit bikes ready to race – so whats out there if you need an engine today?
Here are a few examples.......
A New Lifan 125cc 4 Speed Manual Pit Bike Big Valve Engine with a Mikuni VM22 carb, was on sale for £175.00 + £18.00 shipping. This is a manual clutch engine, and came complete with gaskets, gear lever, kick start and an air filter.
Also you could pick up the New BD125cc 4 Speed Manual Pit Bike Engine for just £139.99. This is the same model that can be used on the STOMP AND DEMON X BIKES – and was complete with gaskets, kick start, inlet manifold, gear lever and front sprocket.
Ebay offers the best value in many cases, but do be careful of shipping prices. This can add up if you're buying a lot of new spares & a complete engine.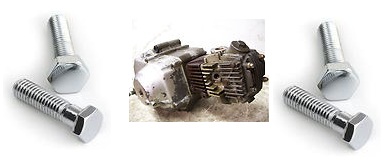 Pit bike questions
Getting the parts for your engine.
Gumtree.com isn't a website most motorcycle riders would automatically think of. But we found air filters and other salvaged parts within their pages. Plus a 125cc Motocross 4 Stroke Engine was being sold at a mere £700. And we could also recommend a look at mxclassifieds.com for engines and engine bits as well.
Plus gumtree and mxclassifieds sell complete pitbikes too, if the thought of getting your hands oily seems a waste of time.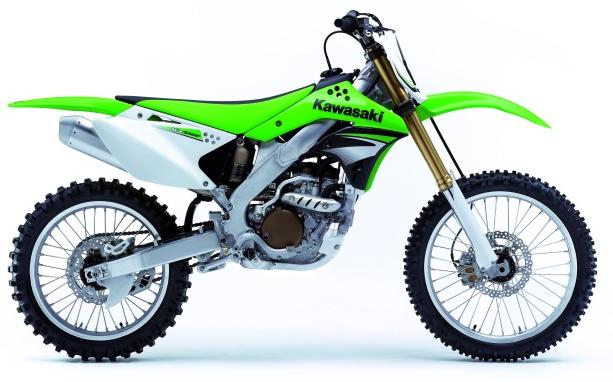 Pitbikeparts.co.uk is also another obvious place to visit if you live in the uk.
A High Performance 30mm Stainless Steel Exhaust was on sale at £57.00, as was 1 Litre of Putoline Super DX4 10w/40 semi synthetic oil for £6.60.
Engine parts were also readily available and plenty of engines as well. The BD110cc Pit Bike Engine. For the Stomp or Demon X pitbikes was selling for £127.95 + £18- £25 shipping.
Or if you wanted to spend a little more they had the Lifan 110cc Semi Auto Electric Start Pit Bike Engine for a straight £200. This was a brand new engine and came with the MIKUNI VM22 CARB, inlet manifold, kick start, gear lever and the wiring loom. A customer noted the speed at 43-50mph – and went around Europe using this very engine – which was impressive to say the least.
Rebuilding an engine can take dedication, and serious effort not to mention time. So buying engines like these "off the peg"- so to speak, will save you hours of frustration if it's not something you particularly enjoy doing. You should always email the seller informing them of the bike you own, to be sure that engine will fit, don't assume it will.
Here are some videos to give you an idea what an engine rebuild takes and the patience needed to complete it.
2-Stroke Motocross YZ Engine Re-Build 1
2-Stroke Motocross YZ Engine Re-Build 2
2-Stroke Motocross YZ Engine Re-Build 3
2-Stroke Motocross YZ Engine Re-Build 4
2 Stroke Motocross YZ Engine Re Build 5
Engine care for pitbikes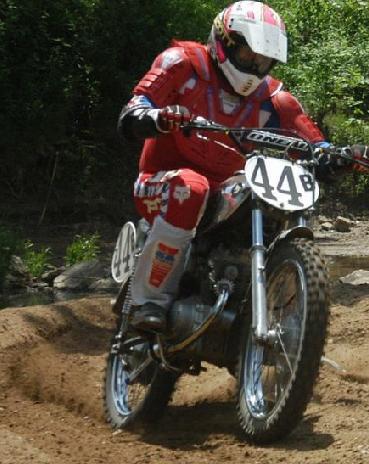 The pit bike engine should always be checked over before the race itself. If you have been diligent enough, you'll know its ok.
After the race you need to do your checks again. Mainly for debris and any possible damage that may have been incurred.
If it's your last race of the day, some dirt bikers like to leave it well alone, and then check the engine over the following day. You can often see things with a fresh pair of eyes, while your hosing the mud off your bike.
Once you have cleaned the bike, and made sure all looks ok.
It's time to take it for a test spin, does the pit bike engine sound ok?
Does it feel like it did at the starting gates yesterday morning? If not it's time to go over the motor one more time.
Repair it well - and you can race again in safety another day.
---
Home | Dirt Bikes | Cheap Dirt Bikes | Accessories | Mini Dirt Bikes | Motocross Racing
Motocross Gear | Off Road Bikes | Used Dirt Bikes | Wholesale Dirt Bikes
Honda | Kawasaki | Suzuki | Yamaha