The pit bike – what is it?
The Increasingly Popular Pit Bike.
One huge reason for popularity of the pit bike is its adaptability to kids and adults. Some have the capacity to carry riders up to 300 pounds. It can be an all-around family bike. In addition, it can be redesigned to be the perfect fit to one particular member of the family.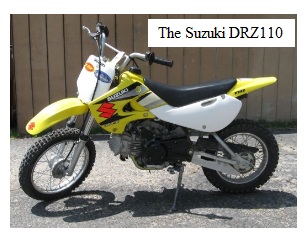 There is a well-known saying that money talks. That is another reason about why it is a favorite racing or casual ride for different riders: low prices. Find a good bargain and use the savings to redesign your purchase.
It is good to remind young riders that the pit bike is motorized and not a toy. It is easier to avoid accidents and injuries by practicing safe and sane riding practices, such as wearing safety gear and riding in designated areas.
It has a different handling style than that of a regular dirt bike, but learning the techniques of cornering and jumping on this bike improves handling ability of all motorized bikes. Just riding on something smaller than usual and getting a great response from the throttle produces a lot of fun.
One advantage of buying a Chinese pit bike such as the Coolster QC214-fc is that you get a 125cc engine, aluminum swingarm to reduce weight, hydraulic disc brakes and the larger and smaller 14/12 wheels. Available for less than $760, you get a good-looking bike that can be upgraded in any area desired. Most dealers carry upgraded parts for the cheaper Chinese bikes, also. Remodeling to fit the rider is half the fun of having the bike; the other half is competition against friends or while racing.
With thousands sold throughout the UK and world, SuperStomp has successfully proved its worth year after year. It is another pit bike that is perfect for beginning riders and adults. The idea for the strong, light frame came from reviews of handling during racing and the incomparable design of the Honda CRF50, a model for manufacturers around the world.
The 120cc 4 stroke engine and upside down adjustable forks lend power and stability. An amazing number of upgrade parts are available from the dealer and online sites.
Kawasaki's 2011 KLX110 has an air-cooled, 4 stroke engine and has excellent off-road handling. This model has some excellent features for parental control while kids learn to ride, such as a throttle limiter that controls the speed and an engine-off switch on the left handlebar. The bike only starts in neutral.
For beginners, the rear drum brake gives the learning experience of feeling the braking action and recognizing the result of too much or not enough pressure. Adults fit the bike as well, thanks to the design of the handlebars and the shape of the seat.
Off-road riding is equally as good with a Suzuki DRZ110. The low rpm 4 stroke engine makes the bike easier to control, especially when off the beaten path. It is designed for quick starts, even though it only starts in neutral.
Then zip through the gears with an automatic clutch to get that vital speed. Odds are the bike will be upgraded once the rider is familiar with the operational features, or it will be placed for sale while looking for another ride. With all those good bikes available, you can see there is no such thing as a bad pit bike.
Explaining the pitbike is easy to do.
The pit bike is essentially a small dirt bike – that's it. Well ok you want a little more…….. its ideally suited for kids, but a great many adults also ride them, because they are quick, fun and cheap to buy new.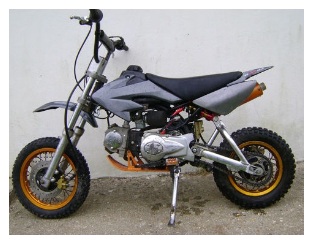 A number of them are made by Chinese manufactures, and nearly all of them come with aftermarket accessories already fitted to some extent. They look cool, flash and brash, but quality can be an issue with some of the cheaper ones.
Your pit bike has been designed with both weight and durability in mind. You can make the most of this when racing your friends or at the local track.
The 110cc & 125cc pitbikes are pretty powerful bikes, but if your not a skilled rider go for a lower cc and then upgrade when you have your riding technique perfected.
Off road motocycle magazines often feature them now, with expert hints and tips about how to care for them. Motorcycle forums are also keen on accepting the pitbike as a modern fun part to the world of motocross. Now good information can be only a few clicks away.
Online has become the place to grab a cheap pitbike, and why would you go anywhere else, grab a coffee and let's take a look-see.
Gumtree.com. has lots of ads on all sorts of equipment; from a kawasaki dirt bike to FMX helmets. Uncovering a 110cc pitbike was a surprise, and even more so was the price - £350! It was a stomp with a new paint job, new tires and was hardly used.
If you want real results in muddy conditions what about mxchange.co.uk. They really do have a multitude of choice for any biker.
While there is no pitbikes button on the left menu, you can begin your search with the KIDS MOTOCROSS BIKES option (well we do anyway). And then go from there.
There was on offer a 125cc ghost bike, for sale at £500. It had just been fitted with a new Lifan engine, and it was a Four-speed manual chain driven engine. Plastics were in black and it needed a new clutch cable. Their son is now into karting hence the sale - so you could bargain a bit here and see if some cash can be taken off.

Whats the cost of a pitbike?
We had some good finds, come see...……….
We couldn't resist looking at ebay next. The site has possibly some of the better competitive prices – certainly on used pitbikes, but do be aware of the added shipping costs.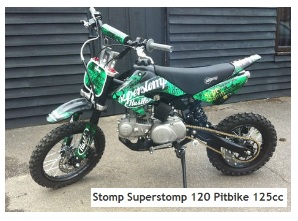 As an example of the sort of metal you can buy - is a TK Raptor 125cc pit bike for a small figured £575. This miniature muddy-moto is superb for kids of all ages, and even a few adults who like to ride the hills and dips.
Containing a 125cc, 4 stroke air cooled engine it had only got 30 hours of use. Plus a 4 Speed gear box on a manual clutch and includes Wavy Disc brakes on both the front and back wheels. The MX bike is reported to travel at 55MPH! so you'll need those grippy 14" Front, and 12" Rear tires.
Also the price was right on an understated and simply advertised "pitbike" –for £125 – (but with 5 days yet to run on the auction). It was a 110CC 4-STROKE that clunked in 3RD GEAR, and some surface rust was mentioned as well.
The seller didn't mention the model or make, so this bike might well go under the radar to other ebay browsers and one well worth keeping an eye on.
Lastly was a 2011 Stomp Superstomp 120 Pitbike with a 125cc engine. The current price of £256 (2 days to go) had not yet met its reserve. The bike is like new, and the seller had no where to ride it, and had added loads of goodies.
OEM handlebars, Renthal grips and OEM folding levers, plus it had the Mikuni 22mm carb, a KMC chain, 14"/12" black SDG wheels and the Superstomp graphics kit with stomp race sponsor logos – and a list much longer than my arm. If this goes for under £500 – it'll be a steal.
So you see how fun and cheap pitbikes can be? Once you ride one, you'll never be the same.
Pitbike wheelie Season 2
Pit bike bud racing x-140cc
Parts for your pitbike.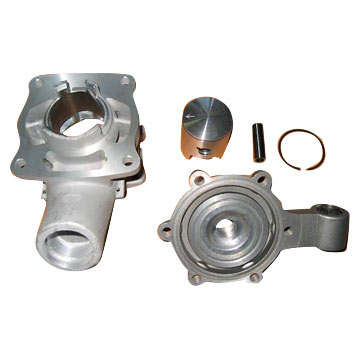 Pit bike parts are a big consideration; so if you buy a bike, have some money left out of your budget to get some spares should the unexpected happen.
Auction sites and classifieds will have plenty of tires, engines and other aftermarket add-ons.
But do be careful of those parts specific to your model and make of pit bike.
A pitbikes life in the sun can be a short one, and therefore some specific parts can become rare.
Unless you buy a very well-known brand that's been producing bikes for years.
---
Home | Dirt Bikes | Cheap Dirt Bikes | Accessories | Mini Dirt Bikes | Motocross Racing
Motocross Gear | Off Road Bikes | Used Dirt Bikes | Wholesale Dirt Bikes
Honda | Kawasaki | Suzuki | Yamaha