Pit bikes USA Dreams
Excitement and Challenge: Pit Bikes USA.
It is no surprise that pit bikes USA residents choice to ride represents the speed and challenge of extreme sports. A number of people drive fast automobiles and sleek motorcycles.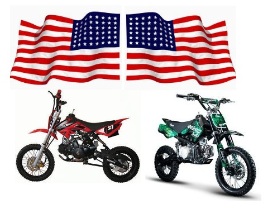 A bevy of other transportation is basically designed to provide entertainment, challenge and speed, making pit bikes a popular selection.
To begin with, it is a relatively inexpensive way to introduce younger kids to riding a motorized machine with two wheels. There are a number of trails and remote areas that are perfect for these smaller bikes.
Popularity also has to do with the continued interest in motocross and the different styles of competition. Racing anything is just plain fun and if an engine is involved, it is just that much better. Several classes and a full race series in pit bike racing are offered in America.
Those not close to a track develop their own run, from a large backyard to the farm down the way. Federal, state and county parks and reserves post whether pit bikes are allowed and in which areas. There is a lot of open space to ride, especially in those states with plenty of desert area.
MX riders that have taken pit bike racing to the next level include Jeremy McGrath and Ricky Carmichael. The Honda racing pitbike ridden by McGrath included a Takegawa DOHC head that delivered exceptional power, and at a later point, BBR built a different one for him to race. Prior to that, Carmichael had a DR2 pitbike built by BBR Motorsports. The MiniMotoSX in Las Vegas has up to 500 riders in this class showing up for the action.
The future for pit bikes USA is very promising. Jeeps Motorcycle Club added that class to the 2012 racing season at Park City Supercross Raceway in Kansas. Riders new to racing benefit from the simplified method of handling, shorter wheel base and lower center of gravity. It is less expensive to care for this smaller version in this tight economy. Best of all, it is much easier to haul this bike to any track or riding area than a full-size MX bike.
American riders are thriving – what do you think?
Pit bikes USA !...... Is the cry from the crowd, as the focused pitbikers rev around the track.
The USA does love the pit bike, and more so every year. Although many bikes are Japanese or Chinese the American fondness of the pit bike has grown for many many years.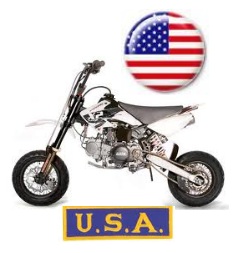 Sturdiness of the frame and suspension and improvements in the ride and handling have given the rider better flexibility on the bike.
Combine this with all the goodies such as, graphics, exhausts and other aftermarket accessories the biker can buy now - and its a winning formula. There is a thriving fan base and club scene in the USA, and this is why it has taken off; so pitbikes in the united states are here to stay, and for a long time to come!
Pit bikes USA trails & circuits make a challenging and rewarding pursuit for the tiny offroad motorbike. Races can be held anywhere from a backwood, to a buddies patch of land where a rider can test his bike to the max.
Do you need a guide for more pit bikes USA goodies?
Well we can show you a few places so you can soak up the pitbike atmosphere.
First off is a US store, called slyfoxmx.com. If you have a cheap motor bike of any sort and want to add some modifications or even get some offroad helmets & gear this store will have it.
One example is an RXR Organic Chest Protector on sale for $139.95. This protection item uses ASA technology; is foam-based and utilizes the classic design of the more common dirt bike protectors.

United states gear for sale
If Abraham Lincoln rode a pitbike he'd buy these things.
Plus slyfoxmx offer a SixSixOne SP2 Pressure Suit thats still in their seasonal sale at $121. Suitable for outdoor races and even a pocket rocket adventure. It comes with an EVA foam protective under layer, moulded shoulders, forearms and elbows, plus an articulated rear injection moulded spine from a mesh construction, which should keep you safe on most tracks.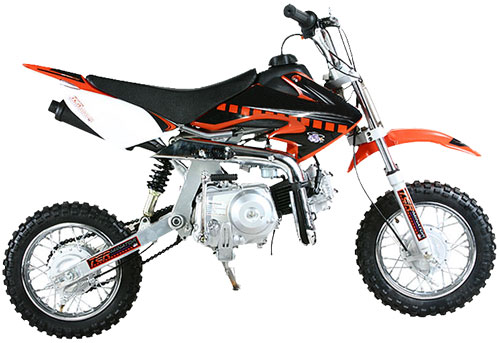 Lastly if your a pitbike maniac what about an Oneal Element Glove for a simple n' sassy $15.25. This classic MX glove has Clarino palm padding, Lycra side panels and Neoprene cuffs with a Velcro closure.
If your looking for a pit bikes USA part, then americandirtbike.com should get you excited. They sell many spares a motorbike dealer would and its all shipped to your home.
Want some pit bikes USA part examples? Ok - Some Tank Decals in vented mylar were $116.90 a set. An ATK 406 Works Pipe was $189.00 and a Rear Brake line came in at $45 each. Choice was great, and navigation was good.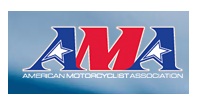 Amadirectlink.com should also be on your shortlist. With a lot of photos & info this site explains more about the AMA. It's been going since 1924, and promotes bikes for all ages.
It's the largest motorcycling organization in America which is ideal for novice pitbikers. There is a section on the site entitled "learning" where a youth rider can think about choosing the right bike, evaluating their skills, and getting the right gear. Possibly there might also be advice on tires and motorbike exhaust problems but we didn't have enough time to check that out.
One final thing to do is to subscribe to an offroad magazine, or specialized pit bike mag. They'll keep you updated on new models, reviews and what to avoid. Plus you'll get some insights into the pitbike sport and a few nuggets you wanted answers to.
The Dirt bike rider
Eventually you will want to leave your American pit bike behind and take on a full sized dirt bike.
And that's perfectly natural. You want more power, performance and we all like to progress our skills and achievements. You might even decide you love the sport that much you'd want to buy a vintage dirt bike. This is a growing niche, as riders recapture the old days with different techniques. We hope if you DO become a fully-fledged dirt bike rider (veteran or not), you'll remember your ol' Pit bikes USA model with fondness and realize that was your in-route to becoming a motocrosser.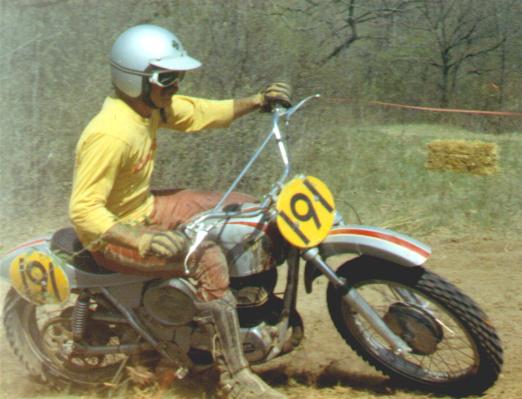 ---
Home | Dirt Bikes | Cheap Dirt Bikes | Accessories | Mini Dirt Bikes | Motocross Racing
Motocross Gear | Off Road Bikes | Used Dirt Bikes | Wholesale Dirt Bikes
Honda | Kawasaki | Suzuki | Yamaha