A pit dirt bike – what is it?
The Fascination with the Pit Dirt Bike
After all these years the pit dirt bike first became a fad around the track for a quick ride from one spot to another, why is it that the small bikes like the Honda CRF50 and Yamaha PW50 are still so popular?
With the large number of larger pit bikes, like the Sikk and Thumpstar, it is much more than just loyalty to the Japanese brands that is keeping teens and adults anxiously waiting for the little kids in the house to outgrow their bikes so dad, mom, big brother or sister can convert the outgrown Honda or Yamaha.
Just think of everything involved to upgrade the pit dirt bike for someone taller and heavier than a child. First, it will likely need new plastic and decals. A new seat and heavy duty suspension systems are must-have items.
Instead of boring out the engine, it is often easier to find a larger one and replace the existing one. More power definitely is desired and customizing as much as possible adds to performance. Upgrading the wheels, tires and brakes are normal activities, as well as working over the carburetor. Since the purpose of a kid's bike is to keep the speed down, the power is already minimized.
Take a look at the 2012 Sikk 125XL pit bike, with a price range of $1500 to $2000.The 4 stroke air cooled 125cc single cylinder engine is just part of the enticing features of this impressive piece of machinery. Maximum power from the 8 hp engine delivers 8500 rpm.
A ground clearance of 9.5 inches and a four speed manual clutch transmission are two additional features someone converting a Honda pit dirt bike might consider. Aluminum frame design and MX-style handlebars are other features that make the Sikk ready to go without a number of modifications.
Built for performance, Thumpstar is one of the Chinese pit bikes that are far less expensive than comparable Hondas and Yamahas, although closer in price to those traditional pit dirt bikes. The Thumpstar Super125cc pit bike is fast, thanks to the 4-speed quick shift gearbox, and delivers even power. Great suspension makes it extremely responsive to handling. The price runs about $1500 for a package that includes a 9.45hp engine and a speed of over 50 mph.
The 2012 Yamaha PW50 has a dry weight of 85 pounds and costs about $1390. This classy pit dirt bike has the traditional 49cc air-cooled two stroke engine and an upgraded fully automatic single-speed transmission. The adjustable throttle keeps the little ones from running off too quickly and is controlled by a stop screw that is easily removed by an adult.
Because the seat is 19.1 inches high, young riders can usually set their feet on the ground and hold the bike steady. Other features like dual rear shocks and mag-type wheels add to the sporty look.
Realistically, however, this upgrade on the PW50 pit dirt bike may have taken it off the shelf for a redesigned pit bike favorite for adults. It has gotten too tame, leaving the field wide open for the older Yamahas and the Honda CRF50 as a great beginning to a tricked out pit pike. Rebuilding parts and creating an individualized pit bike is popular because it is wicked fun.
Motocross adventures no less small.
A pit dirt bike ? whos....what... now???
A regular pitbike like a thumpstar is what we all know and love. Whereas a "pit" dirt bike, is a dirtbike that has some pitbike elements. It is still a small motocross bike in essence, but looks more like a scaled down dirtbike that's shrunk in the wash.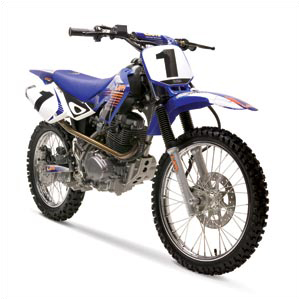 The pit dirt bike is an incredibly versatile moto. You can use it for pit bike racing, or smaller stunts and jumps.
So give me a quick list of PIT type dirt bikes………
Honda crf 50
Yamaha pw50
Yamaha pw80
Kawasaki kdx 50
Suzuki JR 50
Before riding a 50cc pit bike do be sure your abilities are up to scratch as these higher powered MX bikes give great acceleration and can give you an injury if you're a novice.
Have you been having a conversation with your buddies lately, about the costs of an outdoor bike? Sometimes they can seem to cost the earth and it appears you'll never get your hands on one.
Becoming a pocket rider, you will see some savings as a pit bike certainly doesn't cost as much. You'll still need all the same gear n' helmets of course, but savings on the motorbike really do make sense.
So what can we do for the tiny motorcycle lovers! We'll show you where WE go.
Fuzing.com is a bit like a portal where you can enquire about dirtbikes. They have a Pit Dirt Bike page, and depending when you visit the site it can be a mixed bag.
But normal rules apply - look for a clear photo first & a long good description, and use common sense guidelines when purchasing. We found one or two interesting off road bikes - but nothing too outstanding this time. But we will be back.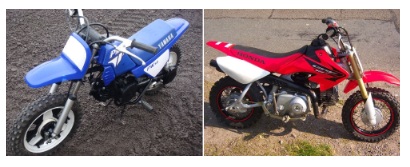 Pit dirt biking
A few items that'll help you on your way.
Next onto motorcycle-superstore.com. All sorts of pit dirt bike goodies for a used motorbike are here, plus kids bikes as well. As an example; they sell both dirtbike & dual sport Motorcycle Tires - and have all the main brands. Bridgestone, Dunlop, Continental, Kenda and Michelin.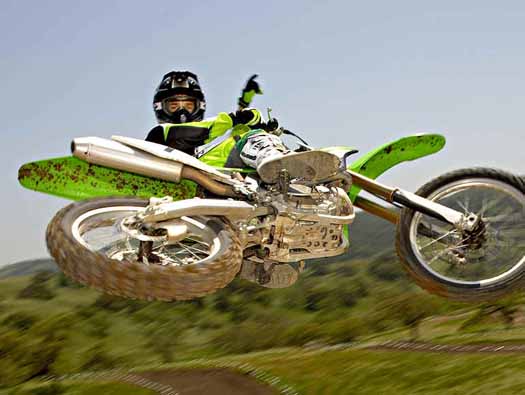 So what about prices? Pirelli's were $61.99 and a front tire from AMS was a well priced $56.95. The picture in the catalogue was always sharp and correct, and we agree they are a reliable and well stocked online store.
Slyfoxmx.com has a number of pit dirt bike accessories, mostly clothing & gear which give the best protection for the dirt biker. But look beyond the wholesale helmets and freestyle boots and look at these items.
A pit dirt bike Trainer Stop Watch for just $49.95 was on sale, and you can time your laps easily and improve upon them using this simple watch. Or what about a fitness manual "The Ultimate Home Training Guide" selling at $34.50. Now if you have been on a vacation you'll be aware of burning arm problems. Well they sell an Arm Pump, called Pump-X for $37.95. This reduces the issue of forearms constantly cramping, and keeps you ready for more adventure vacations & racing opportunities.
The environment for dirt riders, never seems to end - Or indeed the things you can buy.
A dirt bike (& pitbike) can be as expensive as you want it to be. But think about keeping the costs down, especially if it's for your child. They may not be interested in it in 6 months' time.
Also while it's true, visiting the Honda dealership will give you a warrantee, loss of cash on a new bike is inevitable, and it can be avoided.
Why not pitbikes?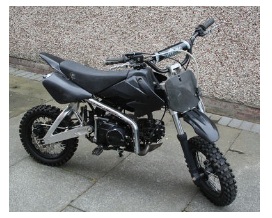 Absolutely why not pitbikes – there is nothing wrong with going for an Akuma Assassin or a Sikk Pitbike.
They are loaded with accessories and often the cost is much cheaper.
A "pit" type dirt bike being essentially a dirtbike of a lower cc and aimed at teens and children, will have a quality feel, plus spares are very easy to get hold of.
It's down to personal choice of course, pitbikes are more MAXPOWER and pit dirtbikes are aimed at those riders wanting a feel for a more proportioned off road motorcycle.
Neither is bad, it's just what you feel is best for you, and if a pit dirt bike suits you, we want you to find the best.
---
Home | Dirt Bikes | Cheap Dirt Bikes | Accessories | Mini Dirt Bikes | Motocross Racing
Motocross Gear | Off Road Bikes | Used Dirt Bikes | Wholesale Dirt Bikes
Honda | Kawasaki | Suzuki | Yamaha