Places to ride mini motos
Mini Moto Racing in the USA.
There are quite a few places to ride mini motos in the USA. Pitbikers have the opportunity to race as many as four classes a day at some tracks. With up to 14 different classes featured at many races, two events are typical during any race day.
Top name riders and beginners appear at the same meet, a wonderful opportunity for those joining the fun of competition.
Sponsors help pitbikers and kid dirtbikers participate in racing. Musselman Honda Circuit in Tucson AZ, a replica of Suzuka South Kart Circuit in Japan, is a multi-use motorsports facility.
It offers supermoto and minimoto practice and racing on various days. SGR (Staggs Global Racing) USA LLC not only carries performance parts, engines and race products, they run a west and east coast pit bike team.
September 2012 saw a number of racing fans and families at Mudville USA in Bourbon, MO. Pit Bike Junkie Magazine put together the idea of a Saturday with camping, BBQ, and a fun day of riding. The following day featured racing, cash prizes for Piranha pit bike riders, and T-shirts courtesy of Fastrax Motorsports.
34 Raceway in West Burlington, IA sponsored a pit bike and Quad race September 29, 2012. Held along with the racing vehicles of the Sprint Invaders Season Championship, it introduced local quad and pit bike racers to spectators and demonstrated this part of motorized racing.
Aside from the smaller events, there are two 'must do' places to ride mini motos. The Masters of Mini (MoM) Pit Bike Race Series is one of, if not the largest, pit bike series in North America. Starting its 11th year in 2013, tracks include Milford Riders, CT, Raceway Park, NJ, and Oakland Valley Race Park, NY. The last race for 2012 was held at Cycles 128, MA. A new track, Charlton, MA, joined the event this year.
The GEICO MinoMotoSX is a Monster Energy event held annually in Las Vegas, NV. Willy Browning won all 3 classes in 2011 and took home $9,000. Take a look at the Orleans Arena and dream about your own backyard practice area.
Places to ride mini motos, pitbikes and small dirt bikes.
You need to be careful for places to ride mini motos , these bikes although fun, are not liked by everyone. Generally there are designated areas or dirt bike tracks you may get the chance to ride.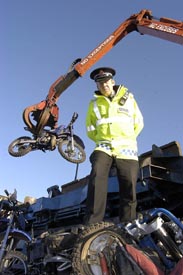 Local councils or police maybe able to tell you where you can and cant ride your bike. It's not worth having your bike confiscated or fined (or crushed!) to stop your enjoyment of the bike you own.
Incidentally tracks built for these small bikes are better anyway than taking a chance on a public path or park, where you might cause a nuisance. Also on the purpose built places to ride, you will meet other people interested in the same pursuit, and get more out of the day.
We all hear about those wanting to protect our environment. Environment conservation is a big deal and the mini motor bike seems to be the devil in disguise.
But it doesn't have to be......
The mini pit bike is great fun, but the mini bike engine can be loud and annoying.
Dirt race tracks have set up specific pocket bike circuits, some indoors and some within a full sized dirtbike track (or they give certain days of the week over to the pitbike entirely). Here riders can meet; and exchange information.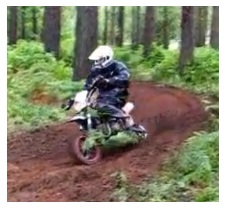 Well organised clubs are beginning to embrace the mini bike, as it brings in new blood.
Those new riders bring friends and eventually begin riding on full sized dirtbikes so it's a win-win for everyone.
If you want a legal mini street (pit)bike it needs to be taxed and tested. With a light kit fitted so you can indicate and travel at night – if NOT you could have it crushed! Be sure your tires are road legal too.
You must of course get the best MX helmet for sale – if you're riding on the highway (or a field) a spill is seconds away. If you look safe and ride in a professional manner - your unlikely to get stopped (if your country allows pitbikes to ride on the highway that is).
Making tracks in the land
Ideas for Places to Ride Mini Motos
Mini motos are so much fun to ride, but every year it seems just a bit harder to find places to ride mini motos. If you are one of the millions of people who enjoy the revving sound of an engine, it is probably hard to understand why so many people get upset when they hear the sound of one or more mini motos starting up and driving off. A lot of the upset comes because the sound interferes with the things they are trying to hear, such as a favorite television show or an important phone call.
If you are lucky enough to live in a community with a group of riders interested in preserving the opportunity to ride close to home, there is a possibility that a special place has been set up for that purpose.
All you need to do is to transport the bike to the location, ride safely, wear the proper safety gear and show good motorcycle courtesy to others.
If that is not possible, perhaps you own lots of unimproved land. It would need to be far away from homes, as well as free of livestock that might be affected by the noise. If so, here are some tips for your own places to ride mini motos.
Perhaps you have been to a track and liked the layout. You can actually get dimensions of different tracks on the internet, which will give you an idea of what is possible with your land. On a large sheet of paper, sketch out a rough draft of the ideas you like.
Contact your city, county and state officials, tell them your idea and verify there is no law prohibiting your idea. Find out the cost of permits and inspections, if any. List what you need, get some friends involved and soon you will have places to ride mini motos.
If all this is too costly visit a local track, get some buddies together with their bikes and rent it out for the day. The more of you there are the cheaper it'll be!
We include some videos of places to ride mini motos to give you some possibilities.
Pit bike mini motard
Pitbike track
Mini Motard Circuit 500
Pit biking isn't always trouble free.
Being a pit biker you can be looked on with scorn and derision. The loud noise the pitbike and mini moto makes isn't always a pleasant one for those non-bikers.
Pit bikes are not street legal (most of the time), and those that take chances on the highway often do so without a helmet or any gear, bringing the conclusion that a pitbiker isn't a responsible rider.
Try not to BE that type of rider, just because the bike is cheap doesn't mean you have to be callous with your riding. Racing on designated tracks is better anyway; it clears your head to focus on what's important – winning!
---
Home | Dirt Bikes | Cheap Dirt Bikes | Accessories | Mini Dirt Bikes | Motocross Racing
Motocross Gear | Off Road Bikes | Used Dirt Bikes | Wholesale Dirt Bikes
Honda | Kawasaki | Suzuki | Yamaha