Pocket bike parts
Pros and Cons of Used, New, Cheap and Expensive Pocket Bike Parts.
The popularity of pocket bikes has resulted in a rapid change of design for the engine, frame and other pocket bike parts that comprise the finished bike. That fact alone means a lot to any rider or mechanic, because things like the handlebars, clutch, and engine may not produce a hundred percent exchange from one model to another.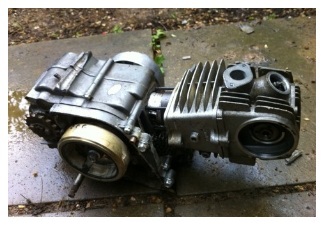 When it comes to safety and performance, there is no sense in trading off their value for the sake of a bit of money. Instead, it is best to review the how-to blogs and learn what can be exchanged and what items to purchase new.
Tips on Buying Pocket Bike Parts
Using common sense when deciding which parts are satisfactory will typically help you make the right decision. Wires and cables crack as they age, making it difficult or impossible to see any problems.
Buy new spark plugs, cables and caps for your own peace of mind. New spark plugs are one of those pocket bike parts that can be purchased for anywhere from $3 to $40 or more. Ask yourself what type of performance you expect and what sort of demand will be placed on the plug. Ask a mechanic for advice about whether that high-tech alloy really makes that much difference.
Make a list of parts on your bike, including the size, part number, and price for a new replacement. Note any other items that must be replaced at the same time. That will remind you to ask about other parts that will fit your bike, as well as determine if the asking price is reasonable or outrageous.
Purchases, Pitfalls and Acceptable Used Parts
As mentioned earlier, one size does not fit all, especially when talking about new or used pocket bike parts. It is important to determine what needs replaced before tearing the bike apart, as well as having the replacement pieces in hand. When you buy used, there is seldom a warranty, so find the best places to get your parts. Local dealers usually carry the most common parts.
If you buy them from internet stores, read the details to be certain you are getting what you need and expect, rather than an item with a name close to a quality brand, but far different. You might find pocket bike parts from a gently treated bike or one that met its end before it saw a lot of use. Used parts such as foot pegs and handlebars will show damage, so when they look usable and fit your bike, purchase them if you get a good value.
The Value of Cheap New Parts
Cheap has several meanings and when thinking of replacement parts for any type of vehicle, cheap often reflects an inexpensive price for a good product. Carburetors are cheap, while swing arms are expensive, even when you purchase a non-brand, lower quality replacement.
The end result is frequently taking a chance on things that will merely be an inconvenience if they are bad, and learning which shops and items to avoid in the future. When safety and performance depend on a particular part, such as brakes, do not accept sub-standard items. Finding cheap new parts such as a seat and seat pad that contour to your body makes a bargain buy for those pocket bike parts.
Bike parts: If your mechanicaly minded.
Pocket bike parts are all about variety. Because of the numerous makes and models of pocket bikes; their parts are numerous too.
You do need to ensure you don't have an exotic model of bike that's hard to get spares for. Bikes like those sure do look cool – but if you can't get the spares that motorcycle will stay in the barn, and no-one will get to see it.Manufactures have their own parts stores and local stores are usually able to order them for you. Forums and pocket bike clubs are a great resource for parts too.
Whatever your make of pocket bike; ride it with great care and maintain it well - so your worry on finding good parts should be lessened. Adults riding small kids bikes are not unusual. They see children having lots of fun on a mini moto and they want to have a go on an off road minibike as well.
This does add to the weight however – and although the engines are rippy and the grip is good, doing jumps and stunts every weekend will add a toll on your mini motorcycle.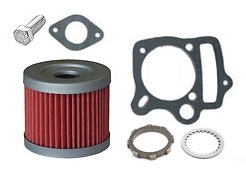 The best thing about minibike parts is the cost, they are a whole heap less than their big brothers. Heck the bikes themselves might even cost less than a full scale dirt bike engine.
If pocket bikes and pit bikes are street legal where you live get insured! If you should have a crash, and its not your fault, you should get your bike repaired for free. Although we wouldn't recommend having too many crashes on your minibike, they are vulnerable to other traffic users.
Use any extra cash to buy great safety gear and the best motocross helmet possible. With mini parts being so cheap, you have no excuse.
What parts are likely to break?
Shocks, wheels, rims, transmissions, engines, gaskets and that's not including all the plastics that can take a hammering when you fall or collide with another bike.
Tires will get punctures, filters will need changing and wiring can get cut - after a race check for leaks on your cycle as well, let it stand for 30 minutes on some cardboard - and you'll know if anything's majorly broke.
Manufacturers do know the weak areas where pitbikes & Pocket bike parts come unstuck and do work to improve bikes year on year. But even they can't protect a bike from unnecessary abuse in a frantic race.
Right – where can you buy small bike parts? Try minimotos4u.com, who have a big range of items. Like an NGK Spark Plug + Plug Cap for £8.99, a Powder Metallurgy Clutch for a mere £12.99 and a Super Heavy Duty pullstart with an alloy starter knurl at a reduced price of £17.99. Before we left we also bought a mini moto rear tyre (12.5 x 2.75) at only £14.50. This was the off-road kind of tire, not a dual-sport one.
Building a mini pit bike?
You could even build a WHOLE bike if you check out ebay.com for pocket bike parts. Ebay is great if you're doing up an old ride or wanting to create a custom motorcycle for the local tracks.
We browsed around.............what pocket bike parts do they have?
A petrol cap came in at £2.99, and then we discovered a pitbike fuel filter at £5.99 – ideal for new riders, and those wanting some quality accessories on their cycle. Then we liked the look of a mini petrol tank selling at £4.99 (this would fit the thumpstar).
Ebay is also best for those hard to find widgets and rare model parts, if it isn't here – your unlikely to find it anywhere else, apart from specialists. Where the costs may be much greater.
Here are some pocket bike videos to give you an idea what other riders are doing with their pitbikes and tiny dirtbikes.
Twin engine mini motocross bike PART 1
Twin engine mini pit bike PART 2
>
Home made pocket bike parts (Kick starter)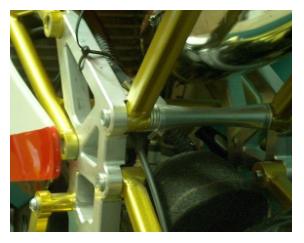 Parts for electric minibikes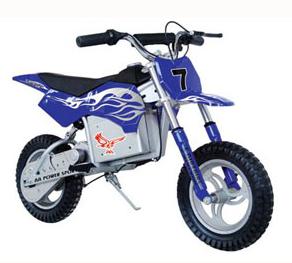 Electric bikes have been around enough years to know that the used models are needing spares of all kinds.
Even if there are less parts in abundance as the gas equivalent, they are available.
As mini bikes get older, pocket bike parts become rarer. Just like they do with full sized bikes, but with Chinese pitbikes and small dirtbikes it often becomes worse.
China likes to move on and sell new models. Which becomes a headache for owners.
As the bikes are so cheap; if you see a really cheap used motorcycle of the same model as yours - buy it – garage it - and use it for spares. That's much cheaper than buying the spares individually, even IF you can buy them that is.
---
Home | Dirt Bikes | Cheap Dirt Bikes | Accessories | Mini Dirt Bikes | Motocross Racing
Motocross Gear | Off Road Bikes | Used Dirt Bikes | Wholesale Dirt Bikes
Honda | Kawasaki | Suzuki | Yamaha