Pocket bike performance parts
Choosing the Necessary Pocket Bike Performance Parts.
Pocket bikes, fun to own and ride, entice owners to boost action with pocket bike performance parts. Some items are more for show. Others increase the pep and action of the bike.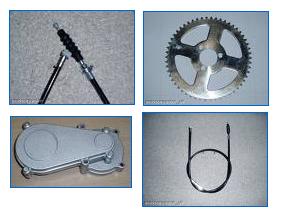 The net has dozens of sites to search for ideas on all parts offered. Drop in at the local motocross shop. You will quickly get an idea of what is fair and who is dreaming. That gives you an idea of which businesses with which you want to trade.
If speed is important, high discharge pocket bike spark plugs allow the air and fuel mixture in the cylinder to ignite completely. That will result in great speed and unbelievable acceleration. You can count on better efficiency with an easier start.
Upgrading to a more durable part is a good idea, but not critical until you need to change some of the pieces on the bike.
An aluminum pull starter with a heat-resistant outer shell is one of the pocket bike performance parts to consider. It is as lightweight as some plastic models. Internal parts like the pawl and spring are more durable.
Some cone air filters make a big difference in performance. They are designed to let your engine breathe without restrictions.
Bikes produce more power when they get more air. K&N's cone air filter is one of those designs that gives a larger surface area, providing more air.
Classy exhaust systems have been a part of motorization for decades and pocket bike performance parts quickly joined the category. Chrome-plated steel pipes, computer designed with a boomerang expansion chamber and mandrel-bends, produce a higher top speed and more torque.
The Redline Motorsports 55-tooth chrome plated rear racing sprocket is lightweight and computer balanced. It takes a bit of power from the low-end, but adds great speed at the high-end.
Pocket parts = big difference
Fast little spares that'll get you ahead.
Finding pocket bike performance parts should be quite easy. The supplier who sold you the pocket bike will have them in stock or know of a supplier he uses.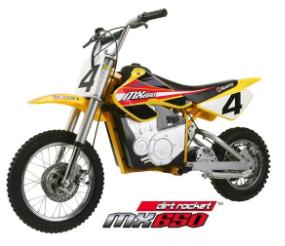 However it may come down to cost, and those recommended spares maybe expensive. If they are check out some of the independent dealers and even eBay may turn up some surprises.
But don't buy VERY cheap parts, they could ruin your bike if they let you down at a critical moment, and cost you more in the long run.
Riding often takes its toll, no matter how much you nurse a bike. Should you be an owner of a bullet proof Honda, you will need some parts for it, as time goes on. Don't worry about it, parts buying isn't a chore.
Where can you get parts without drama? Don't worry we can tell you.
On ebay you can score top points. From a baja bike sprocket to a spare tire for a Yamaha pw50 – come see the auction begin.
Let's look for pocket bike performance parts in detail. A sikk pitbike spark plug was only £2.99, and a rear tyre for a 50cc honda was up at £14.99. Plus a pit bike stand (in chrome) was a low £6.99.
All these pocket bike parts were sold as new; and don't forget all the filters and dust covers you can get to keep your motorcycle in perfect condition.
Pocketbikeparts.com is another good place to go – you'll soon be entering offroad adventures with your buddies using solid reliable parts from here.
For a few examples of what pocketbikeparts sell try these – A cone Air Filter for $19.95 with an Angled Flange; also a 24mm HP Mikuni Flat Slide Carb for $250 and a Cylinder Head for a 110cc mini dirtbike came in at $69.95.
As you can see, you can spend as much or as little as you want – or can afford. Which is ok – as pocket bikes and pit bikes are built for those riders that have tighter budgets. Some extravagant riders will always trick their bikes out more than the motorbikes actually worth – but hey it's a free country to do what you like.
Pocket bike performance parts tuning By Don Micuzzo
Checking it all over.
After a race you must check over your pocket or pit bike. This is the time when you'll know for sure what spares you will really need (after washing it down first of course).
Overhaul the frame and motor with your eyes, stand the bike on some dry broad so you can check for leaks, and then run the bike the next day, to see if that un-usual noise has subsided or is still clattering away.
Don't get too disheartened if new parts ARE needed. It's all part of the ebb and flow of racing.
Your buddies and rivals, all experience the same problems & head scratching on those pesky intermittent faults. Parts are part of the deal, so be sure you have the right ones, or know where to buy them.
---
Home | Dirt Bikes | Cheap Dirt Bikes | Accessories | Mini Dirt Bikes | Motocross Racing
Motocross Gear | Off Road Bikes | Used Dirt Bikes | Wholesale Dirt Bikes
Honda | Kawasaki | Suzuki | Yamaha