Pocket bike scooters
Off Road Pocket Bike Scooters: Seriously Delightful.
It is so common to look at something and decide it would be fun to try. How about pocket bike scooters equipped with dirt bike wheels, giving just enough traction off the pavement to keep the momentum going?
Think of riding standing up, such as on the traditional scooter, only powered. Then consider the joy of sitting down with additional room around, much on the order of a moped, except with off road capabilities.
That's very much the idea with the Yamaha TTX Adventure (a full sized motocross) scooter. It sports a number of offroad additions to a normal road scooter, chunky tires, headlights and carry cases, which should sell well in Asian countries where the roads are less than favourable. The dirt bike scooter might not be such a silly idea after all – but let's check out what pocket bike riders want.
Those who surf the YouTube videos might stumble across several amazing ones of pocket bike scooters, particularly the Honda Spree NQ50 moped off road dirtbike from 1986 and 1987.
The rider is definitely having a delightful time challenging and conquering small dirt hills and trails, while taking the opportunity to jump whenever it is presented. Pocket bikes are designed to bring a smile and heart-pumping reaction a great experience like off road small scooters.
Go-Ped's Trail Ripper 46 will definitely deliver the excitement you want. Forget paved surfaces. At 46 pounds, this is one of the pocket bike scooters designed for action off road. The adjustable suspension system handles the stand-on feature and the 4hp engine delivers the power required for performance. Great designing, such as standing room and less weight, has allowed it to beat out the off-brand scooters.
The knobby tires are four inches by eleven inches on the Ripper, and sit on rims of extremely light polymer, designed to handle high impact. That results in superior handling, better ground contact, and fewer problems with maintenance.
Designing a product that is a cut above other pocket bike scooters requires good engineers and techs that enjoy the sport.
A pocket bike chain system delivers the power using an centrifugal automatic clutch. The handlebar system features bend bars and is able to fold for easier carrying and storage when the bike is not in use. It features a chromoly single tube frame and a 4.5 hp single cylinder 2-stroke air cooled engine.
Even though they are stand and ride pocket bike scooters, it is a good idea to wear your safety gear. You can be traveling at 30 mph plus while you zip up inclines, rush downhill, and do jumps. Boots, helmet, chest protector, goggles and gloves protect you in the event of an accident and do not eliminate the fun one bit.
Who better to make pocket bike scooters for riding than Go-Ped, which proudly presents Riot. The same suspension that enables the Ripper to hold the ground is featured, providing unbelievable comfort as the suspension absorbs bumps and bounces caused by jumps. Again, suspension is adjustable and with the bike's chromoly steel frame, durability is added to this ride.
Riot is available with a 4.5 or 2.5 hp engine and comes with 11-inch Carlisle Badlands knobby tires to handle off-road riding. The seat is gel-filled for comfort and adjustable from 27 to 33 inches above the ground. Maximum speed is listed at 30 mph. The scooter folds easily and weighs 48 pounds, making it easy to carry.
To make a decision between Riot and Trail Ripper, decide which you prefer when you go off road. It comes down to standing or sitting, and with luck, a friend will get the opposite of your choice, allowing a trade when in the dirt.
Go ped thrills – off road….well kinda……
Pocket bike scooters are a new niche in the pocket bike community.
For instance the Go-Ped Speed Racer GSR25, this comes from the gsr40, and is aimed to give users a higher quality machine and gives better durability and performance. Although it boasts a lot of extra features they try and keep the price to an entry level anyone can afford.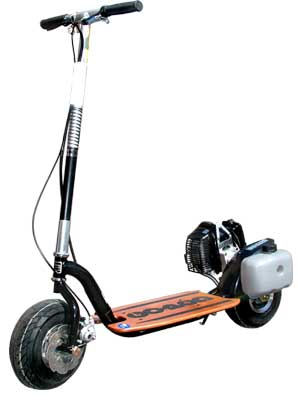 Features of the GSR25 include the new Komatsu Zenoah engine (GZ25N23) equipped with centrifugal clutch, the new patented Mad Dog™ Disc Brake System; a chain drive transmission, a super strong oversized aircraft grade frame and a patented cantilevered fork.
If that was not enough, it has 10" TT tires fitted with polished magnesium rims and a Black powder coating.
The fastest mini bike isn't always the best. Minibikes come in all shapes and sizes and pocket bike scooters are one facet.
With more powerful motors and better chunky tires that help take the curves, they are improved. Ok we are not saying that the pocket dirt scooter will ever replace the pitbike, but for the rider that wants an added dimension, they are worth taking a second glance at.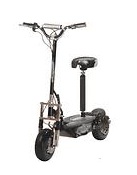 You don't have to know all about pocketbikes, to enjoy pocket bike scooters just hop on this motorized skateboard, and listen to the exhaust and watch those knobbly tires blowing dust out the back of the scooter.....its a blast!
We didn't need to check out a club or forum, we got online and investigated the outlets & stores on the web.
Scooterdomain.com sells gas scooters, go karts and mini bikes & mini dirtbikes. But what small motorcycles did we see? A Coolster 90cc Dirt Bike was on sale at $549.95 (complete with new race decals).
Although advertised as a scooter it was what many riders would call a "pitbike", and a mighty fine one at that. This cycle would be ideal for kids around 13-14, and the engine should have enough grunt to take you around the curves easily and get some wins under your belt.
Dirt bike scooter videos
But when you talk about dirt bike scooters you'll be asking about the "Go-Ped® Trail Ripper" from goped.com. This is a great scooter for the dustbowl tracks and pitbike circuits and you won't need any tuning – just go and ride!
The trail ripper has a Handlebar Kill Switch, a Single Cylinder, Two Stroke, Air Cooled engine and a Walbro carb. With a 4.5 hp motor it's advertised to go upto 30 mph. All you need to buy is a MotoX helmet, goggles - and some dust cloths to clean the ride up at the end of the day.
A couple of riders can get geared up in motocross gear, but this is the type of vehicle most will wear casual clothing. A couple of elbow and knee protectors wouldn't go amiss, or a pair of gloves if you need to make it to work on Monday un-scuffed.
So have fun; that's really why pocket bike scooters exist, try a few moves and don't take it too seriously.
Go-Ped Riot
Go-Ped GTR46R (Trail Ripper)
ROCKETS PEDS 2006 GO-PED, GOPED RACING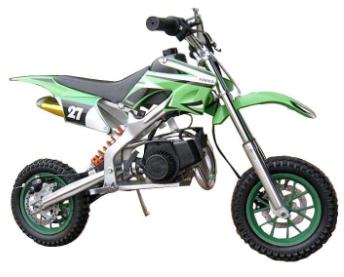 A scooter by another name?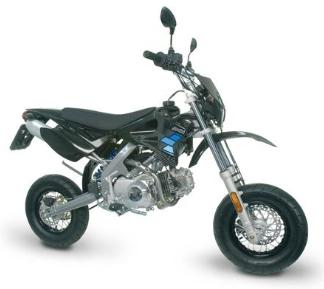 Although what we see above in the videos, is what we like to think of as a dirt bike scooter, that isn't necessarily what other people see it as.
A regular pit bike or small dirt bike like we see here – could be regarded or called a "scooter".
Different parts of the world have different names for bikes, so be sure when you reply to an advert, you know for sure what your buying.
Is that pocket bike scooter, really a pitbike? Is that pitbike really a full sized dirt bike? Sometimes even the owners don't know – and not all ads carry pictures.
Never be afraid of sounding a little basic, because it is your money. It avoids a long car trip only to find the bike is not what you thought it was – not because the seller was deceitful, they just described it wrong.
---
Home | Dirt Bikes | Cheap Dirt Bikes | Accessories | Mini Dirt Bikes | Motocross Racing
Motocross Gear | Off Road Bikes | Used Dirt Bikes | Wholesale Dirt Bikes
Honda | Kawasaki | Suzuki | Yamaha