Pocket super bike
Tiny Fmx superbikes.
The pocket super bike is well loved by many riders. The power and performance of these bikes is unbeatable due to the lightness of the bike.
Even now many riders are surprised by how much power comes from these tiny engines. Don't abuse or underestimate these bikes as they can easily get you into trouble. So always wear your helmet and be sure you ride them where you're supposed to, as police take a dim view of irresponsible riders.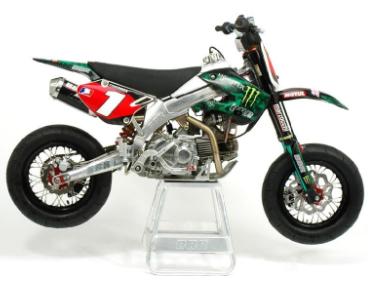 From honda minibikes to razor bike helmets the world of the off road pocket super bike has never been busier. Dirt bike info should be fairly easy to come by and we'll show you a few choice places that will help with your bikes knowledge.
Pocketbikeportal.com is the ideal place to begin. From discussing a little miami trail moto to a vintage minibike there is a lot here to chat about.
Pocketbikeportal have sections on the site such as "Repairs" where they list dealers who have in-depth knowledge of dirt bike repair, as well as minibike frames and dirt bike scooters plus quads as well. If you want to find minibikes for sale; that's listed too. From non-branded little motor bikes to the baja bike.
Then we had to move onto ebay – yes you can buy anything here. Youth bike helmets, little bike filters and cool youth clothing.
So what did we see? A Kids 49cc 2 Stroke pocket bike racer for £229.95; and a pit bike racer (50cc model) selling at £149.95. For minibike parts there are tons – but a front wheel for a MX ride caught our eye going for £6.95. (All items were new and not used).
Some real deals on little tikes bikes and "minibikes for sale" models do come up on the free online classifieds like gumtree. And we saw a cool pocket pitbike 50cc - for a mere £100! It was in full working order for some simple bike fun & riding adventures on your next holiday.
Super pocket rocket bikes
Pocket Super Bike Info and History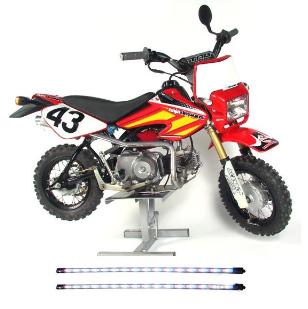 Those who consider the pocket super bike a toy have expensive tastes in entertainment. In 1969, Taiwan sent mini bikes to the US under the names of Maverick and Gemini SST50cc and 80cc.
Production stopped in 1972 due to legal problems with Yamaha. Italy later sent the pocket bikes to the US with costs exceeding four thousand dollars.
Companies rose up to manufacture the bikes, making them much more affordable (some as low as $300) and desired by many people, both adults and kids. Prepared for racing, a 2 stroke engine pocket bike can exceed speeds of 60 mph.
A pocket super bike is the next step up from the pocket bike, larger, heavier and more comfy. Some of the features they have include electric starters, lights and a horn. The 4-speed transmission and larger engine gives it the ability to travel in a straight line faster than pocket bikes. Because of the features, more parents feel more comfortable starting their young riders with one.
The X7 Bullet from China jumped from a 2 stroke to 4 stroke. The beefed up frame has adjustable racing suspension built in. It has an alternator, triple racing gauges and a 49cc gas powered engine. The X7 provides high performance thanks to the sophisticated intake and exhaust system. The factory-installed speed governor is removable.
An incredible mini motorcycle, speed is no problem for the 4 stroke pocket super bikes. The new engine allows it to accelerate just as fast as a pocket bike and top out at nearly double the speed. Due to their features, some brands are eligible to license and are EPA certified. Easy to upgrade, inexpensive parts are quick to find if a person is willing to look. Popular among professional MX riders, the pocket super bike appears to be here to stay.
Monster pocket super bike
140cc pit bikes
2005 ninja super pocket bike
Wholesale pocket bike ads are difficult to track down (well real ones anyway). A lot of middlemen offer super pocket rocket bikes at wholesale prices - but it's unlikely in truth; especially if you find them on Google. A couple of models to seek out are the Honda pocket bike (neon light included if you can get it) and the 2005 ninja super pocket bike - for tarmac. Both great little mini motos but stick with proper stores or genuine used minimotos; not dodgy dealers in the hope of a quick bargain.
The net is a minefield and buyer beware!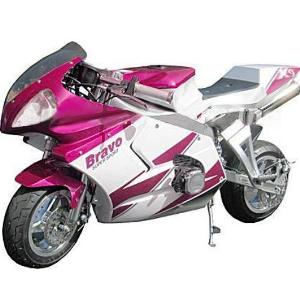 ---
Home | Dirt Bikes | Cheap Dirt Bikes | Accessories | Mini Dirt Bikes | Motocross Racing
Motocross Gear | Off Road Bikes | Used Dirt Bikes | Wholesale Dirt Bikes
Honda | Kawasaki | Suzuki | Yamaha