Polini mini motos
The Polini revolution.
The polini mini motos are great little items of kit.
Many have the familiar two stroke engine and great brakes front and rear. To look at them you can see the Italian styling and a great range of models are available. Fans have begun to realise the polini range offers great value and immense quality.
The polini brand is becoming much sought after and in many ways if you own one; it could be good for you as second hand prices can hold up when you come to sell. But whatever your model enjoy your polini bike.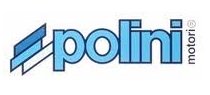 Polini mini motos and mini cross dirtbikes are built by the Polini Motori company of Italy, which started out making bicycles and parts for Vespa and Lambretta scooters in the 1940s.
It is now owned by the three sons of its founder Polini Battista, and has grown to be one of the world's leading mini moto makers (its main competitor is Malossi, also of Italy.)
Polini established its racing credential when Piero Batista, one of Polini Battista's sons, won several European mini moto titles in the 1970s, and the company was an early sponsor of MotoGP champion Valentino Rossi, who started his career racing mini motos.
Polini produce mini cross dirtbikes with two-stroke and four-stroke engines of up to 150cc. There are 11 dirtbike models in the current line-up of Polini mini motos, including the flagship XP 4T four-stroke range - available with a 150 cc engine and 14"/12" wheels, a 107-cc engine with either 14"/12" or 12"/10" wheels, and a 105 cc four-valve engine with 14"/12" wheels.
The two-stroke X1, X3, and X5 models have 50cc-class engines, and wheel arrangements of 10"/10", 12"/10" and 14"/12" respectively. The XP 65 R model has a two-stroke 65cc engine and 14"/12" wheels.
Minibike stores sell a vast array of offroad minibikes and rugged clothing, and you might be looking for bad little bikes for some rough and tumble territory adventure.
Polini mini motos take you into uncharted places as they are not something you would immediately think of.
Dirt bikes effect little kids in different ways; and these bikes are sure to bring a smile to your childs face.
Looking online we discovered polini.co.uk. Who sell the New Polini Minimotard XP4 Stroke minibike model. It's a 4 stroke air cooled dirt engine, with a Mikuni 22 mm carb and straight tooth gears.
The pics on the site looked stunning of this fine bike – but adults may find it a great ride too.
Finding Polini mini motos do take a bit of digging, and the day we looked we only found another polini on ebay. This was a Polini Mini Supermotard (2005), with a current bid of £200. It had the latest forks and a heat and dust guard. This Single cylinder 2 stroke model, had a new stickers set, kick start and disc brakes front and rear.
During your shopping tours, don't forget about clothing for your child. And tuff MX helmets specially designed for the smaller rider. All the big brands produce them.
Polini Mini Motos: Forwarding the Dream.
Some bikes are designed to start young children to learn the art of keeping a bike standing tall so they can master the techniques needed to ride. For some, that is enough and for others, the concept of being born with racing in the blood seems quite realistic.
Polini Mini Motos are excellent examples of that concept, often being the first minimoto a new rider experiences. Champions like Marco Melandri and Valentino Rossi have experienced the joy and excitement of Polini mini motos, as well. Quality and consistency leads the way in establishing good practices and the confidence to improve both skill and style.
Valentino Rossi was born in the beautiful hill town of Urbino, Italy and when still young, the family moved to Tavullia, another small Italian town with a current population of approximately 5,000 residents.
A former motorcycle racer, his father Graziano was very comfortable for his young son's desire to ride. Several bikes available for young children at that time included ZPF and Polini mini motos. Racing, speed and power fuel many kids' dreams and the younger Rossi was no different.
Both driving karts and riding minimotos filled the desire for racing, with karting taking the number one spot in preference.
Graziano bought Valentino a kart and upgraded it from a 60cc engine to a 100cc kart motor for the five-year old younger Rossi, who won the regional kart championship in 1990. Shortly after, he switched his concentration to minimoto and within a year had won a good amount of regional races.
Grand Prix motorcycle racing excitement jumped up a few more notches when "The Doctor" established his legendary bravado and love for racing when he started racing the GP 125 class in 1996. In 1997, he became the youngest ever GP champion at 16 years of age.
Rossi is one of three men (the others are Phil Read and Mike Hailwood) to hold a championship in all three GP series, winning championships in the 250 class in 1999 and the 500 GP class in 2001. He has ridden Hondas, Yamahas and for 2011 switched to Ducati, but Polini mini motos remain in the background as an inspiration for young riders.
Polini Pocket bikes
Here below are some free polini videoclips.
Pocket bike - polini pantera
Minimotard polini xp 110 4t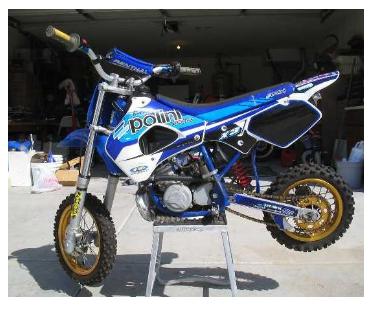 Other pocket bikes
Have a look at these mini bikes on sale if you're interested in something a little different from the big brands. While spending cash on the bike remember your child needs to be geared up properly for the polini or any bike for that matter. Other pocket bikes, may be offered too (at very low cost) so don't get hung up on specific models, if a bargain does come up. And if that bargain is a polini - well go to it!
---
Home | Dirt Bikes | Cheap Dirt Bikes | Accessories | Mini Dirt Bikes | Motocross Racing
Motocross Gear | Off Road Bikes | Used Dirt Bikes | Wholesale Dirt Bikes
Honda | Kawasaki | Suzuki | Yamaha