Rupp mini bikes - how cool.
A pure mini dirtbike classic.
The Rupp mini bikes have ardent fans in the usa, and are perhaps less well known in other parts of the world.
It could be described as a pure American classic from the 1970's. Mick rupp, after whom the model is named after, started the bike model. To the untrained eye, the design is similar to a monkey-bike, but to those in the know the rupp mini-bikes are a stand alone model.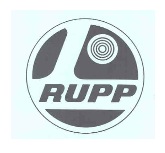 Remember in the 70's when these bikes appeared there was nothing else like them, and its really only until very recently mini bikes have taken off in popular culture.
When you think of youth bikes or a little dirt bike you might think of rupp minibikes. This brand has been around a long time; and is an unmistakable fun motorcycle.
Some early models are getting to be known as antique minibikes; but the good news is that getting parts or a seat for this model (and ones like it) should be that little bit easier.
Ok so where can we buy a rupp mini bike for sale? First off was motorcycles.yakaz.com. This site has a simple layout with a number of rupp "sale" items on display.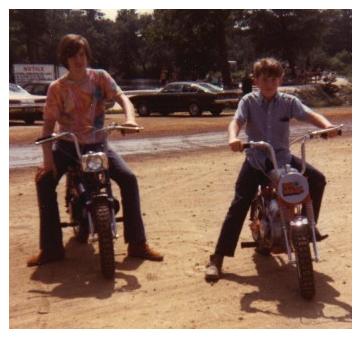 The first rupp for sale we looked at was a $250 bike in new jersey. The owner was looking for a bigger bike so this had to go n' go quick.
Also on the same website was a rupp roadster being offered up at $1400. It's a 1972 model that has been partially restored. Rupp mini bikes like this need to be checked over – this one isn't cheap; so you need to know what other work may need to be done to get it into working order.
If you want to buy new then of course ruppbikes.com is the place to buy your new rides. Also you should find all your rupp part needs here as well. The site has sections on What's new and Hot, The rupp Bikes, a User Forum and other Cool Information.
Rupp Pocket fun for you.
Rupp models can be little girl bikes too - (no offence to the big butch riders). Those little kids riding a bike - can be a joy to watch - as this could be the model to start off a future MX star. But hold some cash back for helmets and other dirt bike gear. Clothing and boots ( dirt bike footwear ) don't come cheap - so it's a must for anyone.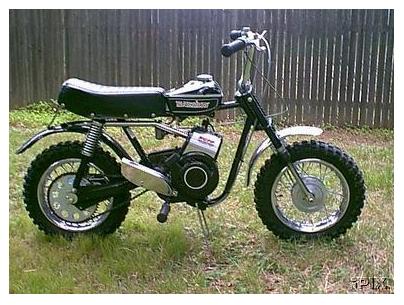 Rupp Mini Bikes of 1970
It is always a big step to move from a successful product such as the Rupp mini bikes already selling successfully and redesign in a big way. Yet, that is exactly what Rupp decided to do and for 1970, the bike changed in an incredible fashion.
The frame changed more to a motorcycle type with the engine mounted at an angle. The Roadster, Scrambler and Enduro received 10-inch spoke rims. Interestingly enough, those rims occurred for 1970 only, never scheduled for use again.
The TC-1 torque convertor drive was another extreme move, as was the 6-inch turbine wheel models such as Chopper and Sprint. Even though gas tanks and engines were silver metallic, the Rupp mini bikes of 1970 were available in three different colors for the remainder of the bike.
Metallic blue, red and orange certainly created a stir with their brilliant colors.
Tecumseh engines such as the new HS40-4hp for the 1970 Roadster and Enduro were readily accepted. Body changes included headlight brackets on all Rupp mini bikes with the exception of the Chopper, an entry- level bike with a 2.5 hp engine that really was quite ordinary as far as glitz and glamor were concerned. The Scrambler, Sprint and Enduro models received a number plate where a headlight would normally have been. Each model ended up with an array of style and design in an attempt to offer minibike owners something close to what they were after.
Sprint had 6-inch wheels/tires and no TC-1, with a 3 -1/2hp engine and number plate. Enduro offered a number plate, 10-inch spoke rims, TC-1 and a 4hp engine with lots of power. Scrambler had no front brake, although it sported a number plate, 10-inch spoke wheels and a 3-1/2hp engine. Roadster had front and rear lights, 10-inch spoke rims, TC-1 and the 4hp engine. Little did customers realize that 1971 would introduce additional changes.
This Classic Mini dirt bike
A Rupp mini bike video
For Your information - Ruppster
Footnote - Your small dirt bike won't be street legal (rupp or otherwise). So when your riding only do this in designated areas. Any dirt bike like a quad bike has the same rules. If you're riding on the highway do ensure you're legally ok to do so. ( ie: The MX bike must be taxed, MOT tested and have a lights-kit fitted in line with your countries laws).
MOT tests are compulsory in the UK for all highway bikes with engines.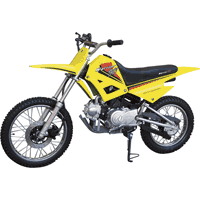 ---
Home | Dirt Bikes | Cheap Dirt Bikes | Accessories | Mini Dirt Bikes | Motocross Racing
Motocross Gear | Off Road Bikes | Used Dirt Bikes | Wholesale Dirt Bikes
Honda | Kawasaki | Suzuki | Yamaha