Second hand mini motos
Buy MX Rides Used! Why not !
Buying second hand mini motos is a superb idea, due to the fantastic bargains available. Ebay is good as is local papers and bargain adverts. Second hand bikes need more checking so firstly read the advert at length, what have they left out?
Which means what have they not told you?
When you do decide to buy the bike, take a look around it, and get a feel if it's been abused or used heavily. Listen to what the seller tells you. They may be really enthusiastic and have lots of receipts for money spent.
This is good if they come across like its been a well maintained cherished bike. If it's all scuffed and dented and you can't even see the engine running, it's definitely time to walk away.
Are you wanting to buy a small motocross ride for little money? A dinky Suzuki; or a tiny honda with grunt? well they can all set you back a fair bit of cash.
Some riders like the gas powered mini bike for straight racing, or a custom motor to show off their skills to the crowd and capture admiring glances.
But whatever you get from a non-branded chinese bike to a baja dirtbike; you'll be paying a heck of a lot less than a full sized racing motorcycle.
We'll start with safety first, and show you where to buy a dirt bike helmet. If you know you want a mini dirt bike – get yourself geared up with a quality MX helmet as a priority.
A fine place online is thebellstore.com. They had a Bell SC-X dirt helmet in Matt Black for $89.95. Or perhaps you'd like an SC-X, helmet with Yakuza Graphics for a more reasonable $79.95. For girl offroaders fighting the dust clouds they had a Bell SC-X Pulse helmet in Pink/Silver for $89.95/each. Plus don't forget those MX goggles on your way out of the store.
Now to racing bikes. Mxchange.co.uk has all the used bikes you'd want. We turned up a Suzuki RM 85 (2005) for £1100; in the "kids motocross bikes for sale" section. It was in very good condition, and hardly used, with a new bike rim and new motor bike battery all in.
Want a fine dirt bike buy ?
Preloved.co.uk too should be on your hot list for pre-owned mini dirt bikes and second hand mini motos. We picked over a kids py50 motorcross bike selling for £225; as it was an unwanted present. The mini moto came with a blue 2 stroke own oil tank so no mixing.
Also on preloved was a red baron 110cc bike selling at £300. Complete with a big bore exhaust and a four speed semi automatic transmission. If you want mini ninja bikes, or Yamahas for kids come back here regularly and check them out.
The autotrader magazine (& its version online) is also a good source of Second hand mini motos too.
How to buy a used dirt bike
Inspecting the Tires on a Used Dirt Bike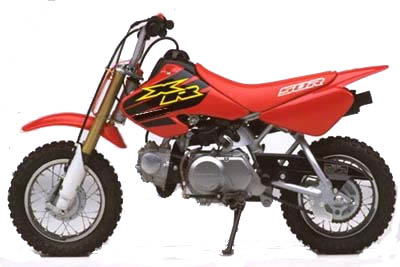 Dirt bike reviews
A dirt bike buy can be fraught with all sorts of problems. First thing to do is to pick up a dirt bike magazine and check out the reviews. They have all kinds of advice and help, and have a look for the dirt bikes for sale in the back of the magazine for any bargains you see.
Also check youtube for advice & tips, and ebay for whats current and near to where you live. Have a keen eye, and be quick- good bargains are soon gone; so get your running shoes on.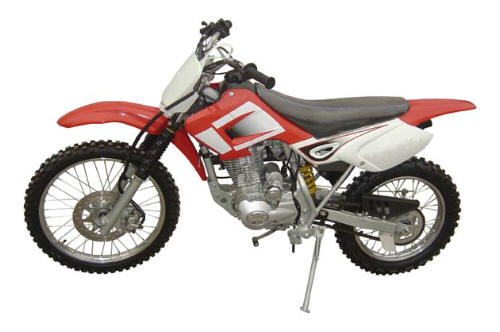 ---
Home | Dirt Bikes | Cheap Dirt Bikes | Accessories | Mini Dirt Bikes | Motocross Racing
Motocross Gear | Off Road Bikes | Used Dirt Bikes | Wholesale Dirt Bikes
Honda | Kawasaki | Suzuki | Yamaha