SSR pit bikes - tiny terrors.
Quality and strength in a small package.
You cant go far wrong with the ssr pit bikes. For instance the 70cc model, looks the same as a Honda CRF/XR50 with lots of Upgrades. It has of course a 70CC Four Stroke, Single Cylinder, Force Air Cooled Engine.
It's the 1 down 3 up Industry Standard Engine, no rotary here! A Semi-Auto Clutch Four Fast Transmission, superb for Beginners and Kids to use. This bike benefits from Dual Front Fork Hydraulic Suspension, and a Front Hydraulic Disc Brake and Rear Disc Brake too. To complete this package you have, a High Performance Air Filter, (no cheap foam) and a high performance tuned Exhaust Tail Pipe.
This is all wrapped up in a Heavy Duty Steel Frame Specifically Designed for rugged reliability.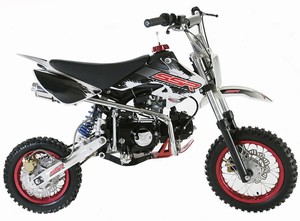 Has SSR pit bikes got into the motorsports hall of fame? That's a tuff one, but they are dirt nasty mini bikes. They can be found amongst some of the cheapest mini dirtbikes but don't underestimate them.
The evolution in dirtbikes, has developed the SSR bike. It comes with great transmission and grip tires forming it into a proper dirt devil motorcycle. Come find out online, what magic SSR pit bikes really are about.
Powersportsmax.com has a number of new motos; amongst them some fmx SSR's. An SSR-110SEMI was priced at $429.95. It's very much like a XR50/CRF50 in looks, but comes with a Semi-Automatic Transmission, 107cc 4 stroke single cylinder engine and cushion grip handlebars.
The website has a ton of information on each model; but do be aware all models will require some assembly which can be a challenge if your not good with tools; and do be aware graphics and a toolkit does not come with this bike.
Before we left we also turned up an SSR-70, again with a Semi-Auto Transmission and price was a mere - $399.95. That's full throttle motorsports on the cheap.
Extrememotorsales.com has some unique stuff, and more importantly a 70cc SSR off road bike – perfect for any kid (or indeed adult). Complete with a 72cc, 4-Stroke, Single Cylinder engine, heavy grips and drum brakes. Top speed is touted as 25mph+ so its not a game to ride it. For all this? Price was $749.99 and includes free shipping too.
Craigslist is often a place that turns up many a mini motorcycle gem. Anything from FMX DVDS to Bike sprockets is here – but we found a superb 125 ssr dirtbike X3 PRO offered up at $1000. This ride should improve your grip, with a big gun exhaust and asv levers, with only a few bodywork scuffs - its a nice buy.
Buying SSR's & some vids.
The last place to research ssr pit bikes was killermotorsports.com. An SSR R 150cc Racing Pro Dirtbike was up for sale at $2,129.00 – now that's expensive! But not when you realise this machine comes with everything.
Upgraded 35mm Forks, Big Bore Exhaust and it appeared in the 2008 Transworld Mammoth Race – the list goes on and on. If you do buy a cheap SSR or a top of the line pro motorcycle get down to the store first and buy a quality lid, its critical to get the best pitbike helmet you can.
Pit bike review SSR125 C-4
SSR pit bikes 70cc
SSR 125 Pit Bike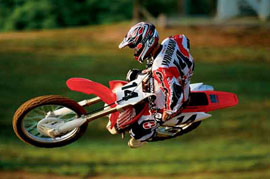 SSR help ?
A purchase in a classified advert is a great way to begin your biking career (on a SSR or otherwise). You may want help in buying your chosen ride from someone in the know (a spanners man) - so take them along. Once bought have some lessons, but be sure if you ride in parks & other grounds your bike is legal to do so, and you have permission from the landowner. Dont lose your new SSR over the smallprint.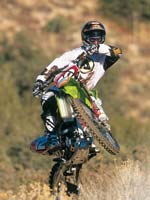 ---
Home | Dirt Bikes | Cheap Dirt Bikes | Accessories | Mini Dirt Bikes | Motocross Racing
Motocross Gear | Off Road Bikes | Used Dirt Bikes | Wholesale Dirt Bikes
Honda | Kawasaki | Suzuki | Yamaha