Used Honda dirt bikes
Used honda dirt bikes are the bargain hunters ideal.
Great Bikes.
If you're one to take to the open road, you might prefer to buy something like a Harley, but if you're into going off road and taking your own path, then a used Honda dirt bike is right up your alley.
Regardless if you're purchasing a dirt bike for yourself or a loved one, Honda offers several different lines of dirt bikes to choose from. To the seasoned professional, choosing a dirt bike will probably be a simple choice, but to the amateur or even advanced rider, the choice can be tricky.
Used Honda dirt bikes can be great for all ages and riders. The CRF50F is Honda's beginner motorcycle for children. It features a four-stroke engine for the perfect amount power, an automatic clutch, and a seat that sits perfect for younger children. The CRF70F is another Honda dirt bike designed for the child growing into adolescence. It features a boost in power and size, while maintaining afford-ability and safety.
A Huge Range.
For the intermediate rider, Honda has made the most versatile and widely used dirt bike available today. The CRF100F is big enough for most adults and teenagers to have fun with. It features a four stroke engine, five speed transmission, and smooth operation that has come to be expected from Used Honda dirt bikes.
For the advanced or professional rider, Honda's XR650R is the apex of off road racing technology. Called the King of the Baja, the XR650 offers more power and better handling than any other Honda dirt bike. It's ability to tear through rough terrain makes it a must for any serious off road rider.
Without a doubt the best in the industry, Honda offers a multitude of affordability, resilient dirt bikes to fit your budget and your style.

Used dirt bike
Used Honda Motocross Bikes.
A used Honda dirt bike will be perfect for a beginner or for someone who is on a stretched budget because it will offer some great savings. The only drawback is that you will have to check the entire bike over just to make absolutely certain that it has not been abused or damaged.
Take the bike out for a test drive and make sure that all of its parts work properly as advertised. In the event that you are not satisfied, just walk away.
Dirt bike environments can take their toll on any motorcycle, and used Honda dirt bikes are no exception. Maintenance is therefore everything.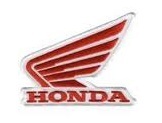 If the correct Honda dirt-bike parts are bought and the used motorcycle parts are avoided, you will definitely be going down a safer path. This is especially true for items such as brakes.
A used Honda dirt bike could be a great bargain. Bike dealers are there to guide you, but you have to take the final decision with what you want and need. Will you be using it for motocross, or for jumps? Or, just for the road? It will be best to just work out your main purpose in using the used Honda dirt bikes.
Finding a used dirt bike on ebay is easy of course, but finding a good bike is another matter. Entering in "bike cheap dirt used" in your search will bring up all kinds of results, but keep a clear mind into what you really want.
Is it a used 50cc dirt bike? or is it a Yamaha used dirt bike ? So narrow your search and keep with the ad's that have full descriptions and good photo's.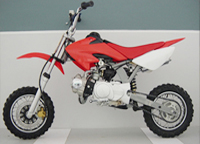 Looking for Used Honda DirtBikes
Sometimes a feature you like about a certain bike, such as used Honda dirt bikes, may be upgraded and disappoint a few riders while thrilling others.
For instance, Honda just changed the CRF150R for 2012 by redesigning the piston, cam and cylinder head in order to provide a near-equal quality regardless of the type of track, elevation or temperature.
That definitely cures a few problems and may be just enough of a change to cause some competitors to sell their older Honda to buy a new one. Competition is tough, so it is important to check the bike out completely before buying it.
One thing you will notice about most used Honda dirt bikes is that regardless of their age, there are parts available. Familiarize yourself with government regulations that affect dirt bike operation, because one of the last things you want is a citation or confiscation of your bike.
Used Honda dirt bikes owe much of their popularity to the man and women competitors that prove Honda's excellence. Grand Prix champion rider Valentino Rossi from Italy is an incredible example of a focused, well-trained athlete.
Ashley Fiolek, part of Honda's Red Bull Racing and two-time Woman's Motocross Association Champion was ready for the 2011 X Games. The news on July 30, 2011 notified fans that the two-time defending gold medalist was knocked out of competition with a concussion suffered during practice on Saturday. Honda Racing has a winner with Ashley, who will be back on the track quickly.
At age 20, she has made Honda proud with her dedication and persistence. Completely deaf, Ashley watches shadows around her while racing for info regarding anyone coming up on the side and depends on the vibrations of her bike to alert her to any situation.
Jessica Patterson switched teams and bikes from Honda to Yamaha in 2010. Hoping to take advantage of the reduced field, she joined Ashley on the sidelines Sunday after a crash in the fifth lap. You will not see any of these riders looking for used Honda dirt bikes in the near future, as they continue their winning ways.
Used dirt bike on ebay
Non branded kids bikes, sdg bikes and amazing deals on used honda's are found on ebay – ok, but be picky and take your time buying, you don't want to be owning junkers.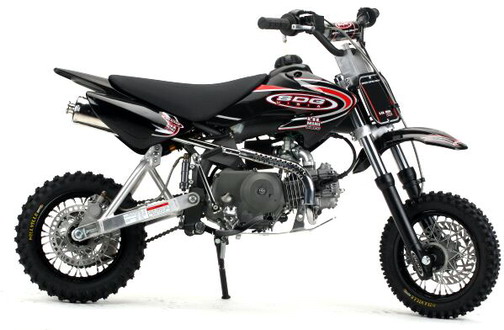 ---
Home | Dirt Bikes | Cheap Dirt Bikes | Accessories | Mini Dirt Bikes | Motocross Racing
Motocross Gear | Off Road Bikes | Used Dirt Bikes | Wholesale Dirt Bikes
Honda | Kawasaki | Suzuki | Yamaha