Vintage honda dirt bikes
Vintage classics - Honda style!
Vintage honda dirt bikes are solid bikes from the past; but they can put a hole in your pocket. If your a collector of such bikes, you will already know where to look - but the internet and other vintage websites has made classic dirt bike metal easier to find.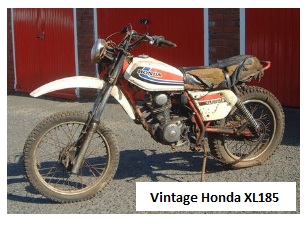 Owners take these older bikes to local shows or events, where they can win prizes for their gleaming machines. Others want non runners, they can restore to their former glory. Whatever your interest, the vintage dirt bike is a fantastic area to get involved in.
The classic honda bike can be an adventure in itself.
Ok, you have to take care that used motorbikes haven't been in major crashes. But if you join a honda riders club or read a dirt rider magazine you can keep upto date on the vintage honda dirt bike.
If you are looking for some classic Honda dirt bikes for sale; we will show you a few websites that sell quality motorcycles and hopefully steer you clear of rides that have been mauled by idiots.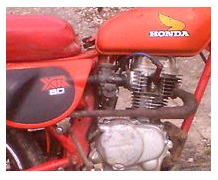 Ebay.com has many a used Honda motor bike & accessory; and even frames n' engines, but what about an older bike we could buy?
First glance at the site was a barn found vintage Honda XL185 in a pretty sorry state. Although bidding was only up to £200, its believed to have been from the late 70's era and did have some parts missing. Sprockets and such like, but you could either use this as a donor vehicle or take on something more challenging and get this bike back to working order.
If you like a smaller model what about a cute Honda xr75 xr80 ? from 1979 it had been dry stored, and did fire up. However it was being offered up as spares and repairs – which was about right, as on close inspection some light restoration was required. Bikes like both of these need careful consideration – how much will they cost to get back to working order? And will they be worth MORE when you've done that?
Finding a 1983 Honda CR480 for $1,250.00, in top running condition gave us another brilliant bike to check over.
It had a number of parts included such as a new Wiseco 0.25mm piston kit and a NOS DG pipe and silencer. The rider selling the cycle, had looked after the chain, sprockets and tires too – so this bike was ready to race.
Other accessories for women riders and the young riders becoming interested in the vintage scene are also on ebay – this included a classic AHRMA MX Honda racing jersey for $9.99. And a new MAHER Honda jersey selling at $16.99 – both were "buy it now" prices.
Mxchange.co.uk also brings up some Honda's way too good for the breakers. Like a Honda CRF 250F offered up at £1900. This looked like it came straight out of a dirt rider mag in excellent condition and a spare set of used plastics came as part of the fixed price.
Don't forget classicdirtbike.co.uk which brings up some classified ads on vintage rides. For instance a 1984 honda CR80R which had never raced and stored for over 15 years looked brilliant but didn't have a price! But a HONDA CL250SC (1984) was up at £400.
Keep looking everywhere you'll be surprised by what you find.

Dirt bike Videos
Would wearing a 30 year helmet worry you?
So if you do enjoy vintage honda dirt bikes, or trail rides – there is also the possibility of getting dressed in contemporary clothing and classic looking helmets – at mx shows & races - which will catch the eye of the spectators.
Remember we say "classic looking" helmets, it would be foolish to ride with 30 year old helmets whatever the race might be. You buy stuff that certainly looks the part but does not compromise safety and that's where you want to be on your vintage honda dirt bikes.
Vintage honda dirt bikes
Moto-X Fox Honda CR 250R Vintage MX Elsinore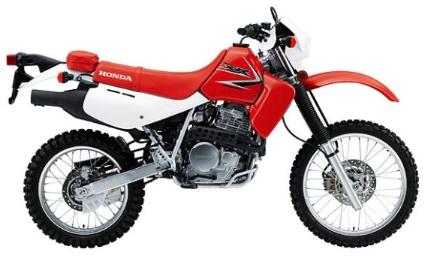 Buy a dirt bike
When you buy a dirt bike; vintage or otherwise it shouldn't have to be a chore. Fully restored bikes are on sale – like the one below. BUT prices are reflective of that hard work that's been done for you. If you have the cash it's a great way to begin your vintage motocross experiences. With a cycle that looks like it's come straight from the showroom.
Vintage honda dirt bikes - the best of the bunch.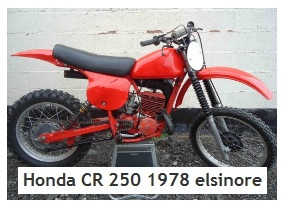 ---
Home | Dirt Bikes | Cheap Dirt Bikes | Accessories | Mini Dirt Bikes | Motocross Racing
Motocross Gear | Off Road Bikes | Used Dirt Bikes | Wholesale Dirt Bikes
Honda | Kawasaki | Suzuki | Yamaha