Worst motocross crashes
Dirtbike crash and bash.
The worst motocross crashes of most recent times can be found on youtube.
Dirt bike crash clips & motocross crash pictures.
The Worst Motorcross Crashes in History
It seems like just about every year there are new entrants into the list of the worst motocross crashes of all-time. Some of the worst have resulted in deaths and all sorts of painful injuries, to professionals, amateurs and casual riders of all levels of ages alike.
Others have simply been compiled into YouTube video clips which rack up millions of views because they are so shocking or violent. Here is some more information on some of the worst crashes in the history of motocross.
Motor bike crash dirt ….sky….dirt….sky….dirt.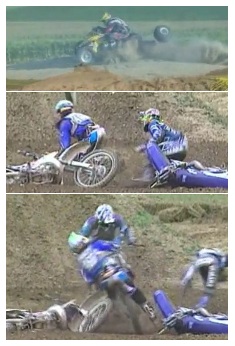 If you go to a site like YouTube, you'll find plenty of videos showcasing the worst motocross crashes in history.
Of course, depending on the video and the user, the crashes might be called "the best" crashes in history because of how bad they were.
Either way, they feature all kinds of brutal accidents, including huge falls off jumps, head on collisions with two riders ramming into one another, a dirt bike tree crash, crazy mishaps on tracks and off road courses, and we think of these as the crash kings of motocross.
Of course, you don't need to go to YouTube or other websites to see some of the worst motocross crashes in history. If you watch enough of the major events either on television or in person, then you're bound to see some sooner or later.
Even the best riders at the biggest events can end up in terrible crashes. You need to look no further than a guy like Travis Pastrana, who is almost as well known for his vicious injuries as he is for his great riding and all of his success in various disciplines over the years. He was in one crash that almost left him dead or paralyzed, and he needed three months in a wheel chair and six blood transfusions to survive.
Accidents on the MX circuit.
The fundamentals surrounding motocross crash videos.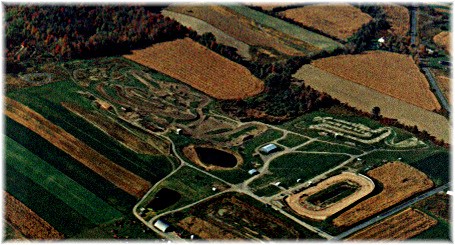 Unfortunately, while many people take all of this about the worst motocross crashes pretty lightly, it's actually very serious.
MX Riders over the years have died as a result of horrendous motocross accidents.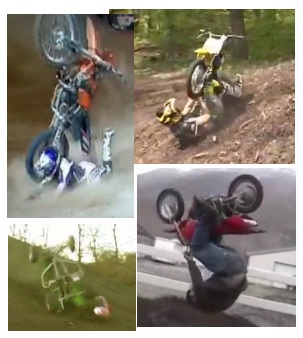 This includes professionals in the midst of races and trick competitions, as well as amateurs competing in events, and many people simply practicing or casually riding for fun.
It's sad because if you pay attention to the news, you'll frequently hear stories about a teen being killed at an event after an accident for one reason or another, or a popular professional dying from a worse than usual crash motocross incident.
It highlights how dangerous this sport can be and what the risks actually are.
So while it's fun to watch some of the worst motocross crashes and laugh with your buddies, it's definitely not a joking matter. When you're out there riding, make sure to take all of the precautions you can in terms of knowing what you're doing, having a high quality bike, and also having all of the proper safety and protective gear.
Motocross crash motocross preparation – and it's the latter that will save you from the former.
We can still enjoy the brutal crashes that others have walked away from or recovered from eventually, but remember, it's not all a joke and when you're riding, you need to be really careful , and not put yourself purposefully in harm's way.
Freestyle Motocross Crash Compilation
Motocross Crashes
Kids motocross racing
Lots of vids on motocross and dirtbiking are submitted on youtube. Many posts give random subjects like kids motocross racing, or safety tips on riding your first pit bike. You may even be able to do local searches on tracks around the corner from you like houston motocross circuits or even type in your local clubs name too.
You might be surprised by what you find. With so much content on youtube such subjects as motocross track building and how to do a wheelie are also submitted alongside the more familiar race and crash footage. So have a good time looking at the vids available.
---
Home | Dirt Bikes | Cheap Dirt Bikes | Accessories | Mini Dirt Bikes | Motocross Racing
Motocross Gear | Off Road Bikes | Used Dirt Bikes | Wholesale Dirt Bikes
Honda | Kawasaki | Suzuki | Yamaha