Yamaha dirtbike pipes
YAMA Parts and pipes.
Yamaha dirtbike pipes may break the more you use your Yamaha bike obviously, so its important to know where to find spares.
Great Things to Know about Yamaha Dirtbike Pipes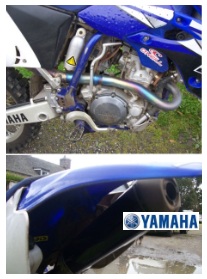 Yamaha dirt bike pipes, incredibly designed regardless of the size, traditionally lead to great performance of your bike. Two things that lead to a rider changing the system are destroying the exhaust system while working on mastering new tricks and the desire to add to performance, such as in racing.
Akrapovic Racing and Evolution systems make an incredible racing exhaust system for the Yamaha 2009 - 2011 YZF-R1, although no price was available. Rather than the heavier stock stainless steel link pipe and header tubes, Akrapovic uses titanium.
Carbon fiber or titanium mufflers are also part of the aftermarket pipes system. Carbon fiber and titanium reduce the weight, leading to better performance. The system, not approved for use off the track, is strictly for racing only.
The Yamaha PW50 is a very popular bike for beginners. Designed to provide enthusiasm in the rider and safety in the bike, the exhaust pipe is routed away from the rider. Spills happen and as the rider gets more confident, the exhaust system is knocked around frequently.
I found a replacement exhaust system at pwonly.com for just under $100. They also have other Yamaha PW50 parts available, if you have one or plan to purchase one in the future.
As riders create their own tricks, it is easy to annihilate the exhaust system. In addition, it is one area to shave a few ounces off the overall weight. That is sending owners to various sites to look for aftermarket motorcycle parts, including exhaust systems.
Before you become trapped in the mire of abandoned sites and sites that announce they have what you are looking for, only to find out they do not carry anything for Yamaha, go to your dependable MX blogs to see where others are finding what is needed. It will save you hours of time seeking yamaha dirtbike pipes .
Where to go....
The manufacturer themselves is the obvious place to start.
But be sure to check out the independent dealers on the internet and offline, they sometimes offer better deals, and have sales on certain parts. Auction sites offer some great deals too, as private sellers wish to make a bit of cash from their Yamaha spares. Its well worth doing some research before buying your Yamaha parts, and pipes as you could be saving quite a lot of money.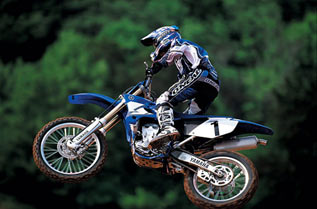 From a yamaha yz125 to a yamaha pw50 it should be a yamaha breeze to buy trial bike pipes. Bike exhausts come in all shapes and sizes so its critical you get the right yamaha motorsports pipes for the right model of bike sport moto.
So for the common rider we'll check out some places other than yamaha motorcycle dealerships who sell yamaha dirt bike parts.
Ebay.com is a brilliant place for yamaha riders and bike auction buys. You can buy yamaha 125 cc enduros, vintage yamaha motorcycle parts and a toy kid dirt bike. Here below are our top yamaha atv accessories. An exhaust blow out repair kit for £20, a pro circuit pipe for a yamaha motocross YZF250 was currently on £21, and 3 days to go. Plus a New DEP YAMAHA YZF 426 S7 was on a buy it now price of £268.99.
You should also be able to pick up a yamaha owners manual, and some rider safety gear as well when you visit ebay.
Motoxparts.co.nz were selling a Yamaha bikes YZ250F Exhaust System (Stainless) for $835.00. Including an Aluminium Muffler/mid pipe, Tapered Mid & Twin Stepped Head pipe and no jetting needed for this bike tour item. A sound rider may also like a YZF 250 2007 & 2008 M7 Aluminium canister/stainless mid pipe going for $625.00.
Dirtbikeexpress.co.uk also has a huge volume of accessory bike spares and kit bike goodies. The bike sale began with a Dep 2 stroke front pipe to fit a Yamaha YZ DT selling at £164.99. This is a max performance pipe that's been track tested for free riders. Some Dep 2 stroke motocross exhaust packing was at a much more reasonable £8.99 and a Motocross Exhaust Bung was up for £3.99.
Dirt bike pipes
A yamaha dirtbike pipes (Yamaha motorcycle) forum - can be useful in regards to yamaha atv troubleshooting, and perhaps in finding that hard to get spare for your 1980 yamaha motorcycle.
A yamaha atv repair manual should be found from a dealership, but sometimes turn up in a pit bike mountain sale on gumtree.com or indeed ebay. But whatever yamaha dirtbike pipes parts you buy pour over the dirt bike picture in the ad or store front, and email the seller to be sure it will fit your off road bike.
Here are some yamaha dirtbike pipes bike video clips to check out.
Yamaha PW-50 (Video)
Yamaha TT-R 90 No exhuast pipe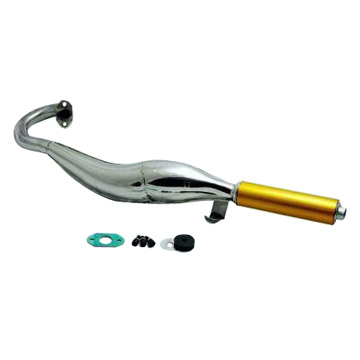 The best dirt bike
Parts such as yamaha dirtbike pipes, and even a dirt bike exhaust all add costs to your motorbike. So if you're looking for a used pitbike always buy the best dirt bike you can, and the best condition you can too. If you get it home and a bike dirt exhaust needs replacing or even a major part; your bike will be off the road for some time - and no rider wants that.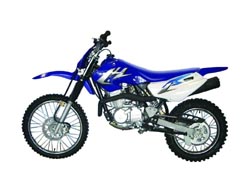 ---
Home | Dirt Bikes | Cheap Dirt Bikes | Accessories | Mini Dirt Bikes | Motocross Racing
Motocross Gear | Off Road Bikes | Used Dirt Bikes | Wholesale Dirt Bikes
Honda | Kawasaki | Suzuki | Yamaha